"I have no beliefs," said her mother. "Only hopes." ― Caroline B. Cooney, The Face on the Milk Carton
I just finished a phone call with a dear friend of mine, who placeholder'd exactly the confusion, joy and trepidation that had peppered most of my day. "I feel like a kid on a milk carton." I regretted the words almost instantly after they were spoken, wondering what kind of monster actually thinks that way less than 12 hours after speaking to the one person she's ached to meet most.
My childhood consisted of sport trophies, sneaking marshmallows out of the hallway kitchen pantry, pretending I was a mermaid in our backyard pool and  long afternoons playing dolls- spread out all over- recklessly even,  in our wood-paneled basement.  I often watched movies or t.v. shows that had one underlining trait; they featured trials and stories that gave equal voice to joy and grief.
There was the daily favorite: Wizard of Oz. Dorothy is violently hit in the head during a storm, she dreams about all the courage, love and acceptance that she lacks and realizes that the support system of her family will ensure she has all she needs. Then Zoya. A Lifetime Original Movie featuring Melissa Gilbert that absolutely torches happily ever after with fires, and war and dead puppies in castles. (It was a personal favorite.) Finally, The Face on the Milk Carton always seemed to be a weekly watch. Kellie Martin stars in an adapted story from Caroline Cooney that struck fear into the hearts of any girl who wondered if she was really from somewhere else. And the thing is, I was.
I couldn't succinctly summarize or pen 34 years- at least, not rationally. I've always known I was adopted. (Chosen, my parents assured me.) The words, "special" and "chosen" mark adopted children as a cautious reminder not to think too far behind. My parents, were always open with me. I was Polish. She was young. She had brown curly hair. She liked art. She couldn't keep me, so as my friend so eloquently summarized tonight, "She loaned you to another family who fell utterly in love with you. It had to be this way. The universe said it was so, Kate."
In my mind, my birth mother was always the pretty woman at church who looked at me with care and concern, until she stopped going to mass, or we kept missing one another; I imagined she simply came to check on me. As a teen, I believe she looked like Shania Twain, or had to be so famous, and couldn't keep me because she was ON TOUR. One time, I was convinced I ran into her while I was waitressing at Country Kitchen in Winona, Minn.- she left a tip, but no number.And there, my parents were- the ones paying for private school, kissing me goodnight and assuring me that while I came from another place, I was really, truly theirs.
"Will you find her?" Friends and boyfriends asked. Someday, I knew I would. Too long of a time ago, a man I was dating gave me money- and told me to use it to get the file from the adoption agency. I told him I had been sitting on it because of the fee and concerns that I wouldn't like what I saw. I mailed a check then- but it was lost. Years went by. I found an old email in February 2015, and decided to get back in touch with the agency once more. Could I try again, I asked? They assured me that it was okay. And I did- after another few months of deliberation. But then, everything went silent.
The agency had numerous excuses- miscommunications, misplaced documents. The wrong amount was mailed. I was convinced it was karma. I gave up about three months ago- figuring after all this, it just wasn't meant to be. I pivoted and threw myself into another ghostwriting project. I only picked up the call on Wednesday at 4 p.m. because after having spam messages all day, I really wanted to figure out who sold my name.
The Call
The woman on the other end was someone I had been emailing for years. I braced myself for the news that I was just looking for something hopelessly and irrevocably lost. "Kate, I'm so sorry we haven't been in touch. We've located the photo and background you requested. And there's something else- we have a letter, too." The phone dropped then- not the call, but the crash of the plastic on the conference room table woke me up from the assumptions of it all. "You can't send this in the mail," I explained. "You have to send it to me electronically. If it is lost in the mail, I could never get over it. Oh please, can you email me?" And I didn't believe her, but she did. I ran to the printer, because I couldn't  bear to look at the woman who gave me away on a computer screen. I stood by the printer and suddenly, there she was- in full color.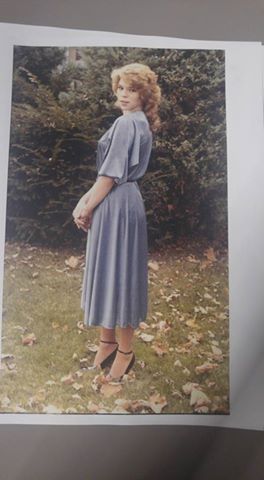 I didn't see it at first. She was young and beautiful. I wondered if they had sent me someone else's birth parent by mistake. The few close people I showed said, "Oh! It's your eyes." For all the mirrors I've looked into, this one deceived me. I looked at her nose- studying it. I knew it matched mine, but I hadn't mentally put together the human and the picture. I assumed she had long forgotten. I prayed she had forgotten. I thought of the weight of loving something you couldn't have and realized that in many different ways- I knew that pain and wished it on no one. I wanted her to live somewhere, never even thinking of me- a beautiful life that didn't tolerate regret. But then, I read the letter.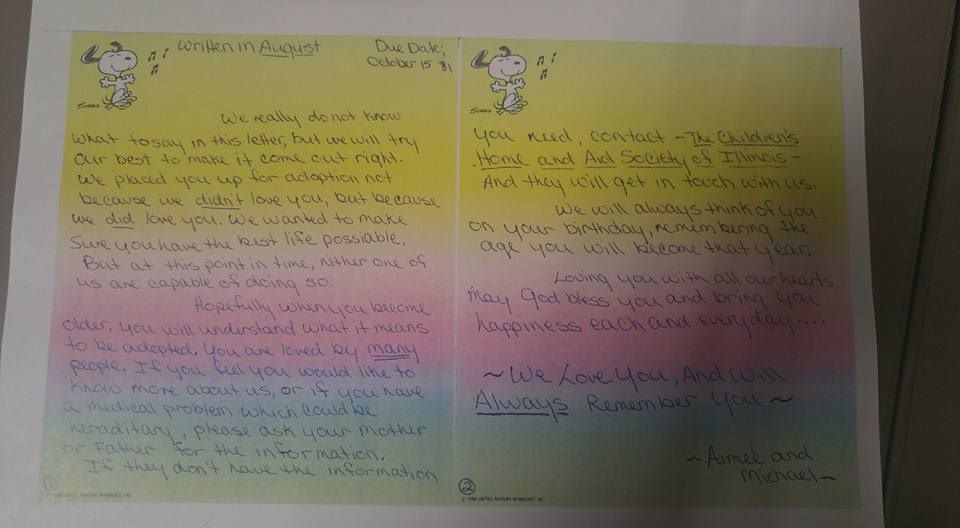 The writer in me studied the curve of every letter- the placement of every syllable and underlined word. I lost myself in sentence structure, proclaiming that I inherited the way she used commas to breathe- and refine the future placement of thought. There was something I couldn't put my finger on- almost a whisper. "Come find me." I smiled when coworkers stopped by and I showed them.  "Come find me," it said again and it was almost too much to bear.
I've spent decades writing on rejection. Afterall, GirlmeetsGeek was born from a LiveJournal- (dating back to 2005) and moved here when I took off an engagement ring- taking on finding the parts of me that he didn't fulfill. I had enough rejection and pain and neurosis for most eighty year old women. This was my first year cancer-free in almost a decade. I reasoned with myself- thinking of every possibility. She was dead. She hated me. No one knew I existed. I was forgotten. Her name was Aimee and I was Kate- that was all. She used rainbow Snoopy paper and indented every paragraph. Once she loved me and I decided- that had to be enough. She underlined August and like a forensic investigator too close to a case, my heart said, "that means she loved you- even in the beginning." And I lost it- a little. Because of August.
I'll find you 
I created a graphic and gave everyone I knew a chance to read and critique. I called in favors to friends all over the globe as I poised ready to share. I used all the keywording prowess, contemplating social ads to help with reach. I so carefully chose every word for its opportunity to go viral; I thought like a marketer. The font was a bastardized version of Dr. Seuss- trying to grab attention anyway I possibly could.
The text read,
Dear Aimeé, 

It took me 34 years to get the courage to start the process. I toiled and waited for the perfect time. Exactly 12 minutes after receiving your photo from the adoption agency, I knew we had to meet. Perfectly-planned impatience – that's me.

During the hot Chicago months of August in 1981, you wrote me a letter- promising that you'd never forget about a difficult decision; reflecting on my age and who I was to become on each birthday. You wrote the letter to a little girl, who grew up in a wonderful house with a pool in the backyard, softball, volleyball, figure skating and cheerleading.

They said you liked art, but I can't draw very well. I tried to sing too- almost a musical theater major… but now, I just write. We write the same, underlining feelings and looping our letters- sometimes I capitalize mine when I need to make it bigger. I noticed right away that somehow- I have your penmanship.

You don't have to be my mother. I have a utterly fantastic one of those. She's one of the first people I call when things go horribly right, (or horribly wrong.) She still kisses my forehead and tells me that everything is going to be fine. She cheers me on and reminds me to act with integrity. You should meet her too.

I don't need to be your child anymore. I've grown and built a business, knowing that if it was meant to be, we'd find each other one day. My life has been a series of exuberant circles- endings and beginnings- just like our letters, looping and filled with emotion.

I make assumptions here, hoping that you are alive and healthy. I'm hoping you are open to a ridiculously-long phone call, or maybe just coffee or dinner – wherever you are.

If you know Aimeé or know OF Aimeé, can you tell her thank you from me? I've never known what I truly looked like and now and seeing a face reflected back to me, has answered a thirty-plus year old question: Where did this insanely-perky nose come from?

Kate-Madonna 
It was shared long and wide- nearing 200 shares on the graphic, and many reproductions or shortened versions- I counted near 300. Thinking at the last minute, I posted in a few of her neighborhood groups- at least, the neighborhood where she gave birth, thinking that maybe someone would remember a pregnant girl, or knew her family. Nearly 70 messages later, I felt a sense of pure dread- everyone had a horror story and every story was worse than the last. "My birth mother chased me off her front step." "Kate, be prepared. It never goes how you want." "You're effectively ruining her life, Kate. What if no one knows?"
"It's Pandora's box isn't it? The myth. The moment you opened that milk carton, it was there. Every evil thing. And you'll never be able to put it back. It's out now." – Caroline B. Cooney, The Face on the Milk Carton 
I considered taking the graphic down the next morning. Perhaps I had been reckless and cruel- maybe Aimée wasn't really an, Aimée at all. She could have changed her name. What if I was disrupting the life of someone who only wanted to leave behind those months in 1981? Feeling embarrassed and disheartened, I turned on my computer yesterday morning to find a message from a new friend named Leah. It read, "It appears you've been hacked." She claimed that the graphic I shared, featured their friend's photo. And, she had no baby up for adoption over three decades ago. I said, "But, I was given that photo from the adoption agency." For a few minutes, I wondered if I had ruined someone's life. I was blocked from the group. Leah kept talking. A few minutes later she simply said, "Her name is Aimée. She wants to talk to you."
I looked at Aimée's profile. She matched the woman in the picture perfectly. I simply said in my first message, "10/16/81." I scrolled up and noticed she had sent other messages- as far back to the night before. The first read,
Someone bought you to my attention, though Facebook. I would like to say you are beautiful. I believe you are my daughter. Oh my, I have been searching for you since the day I had to leave you , my love. You can contact me if you wish at anytime. So glad you reached out. Thank you. I have been searching for ever. I hope you are ok.
We talked of the blanket she knitted for me, and a wool-fur bear that played music that I still had, downstairs in my memory box. Both of us working in-between, we checked in with each other every few hours and that evening, we had our first call. She still lives across from the hospital. There was an envelope she kept with my hospital bracelet and every picture that she was able to have. The stationary she wrote a note on came from a treasured Uncle. My note was the only thing ever written on the rainbow, Snoopy paper. And then, she shared these…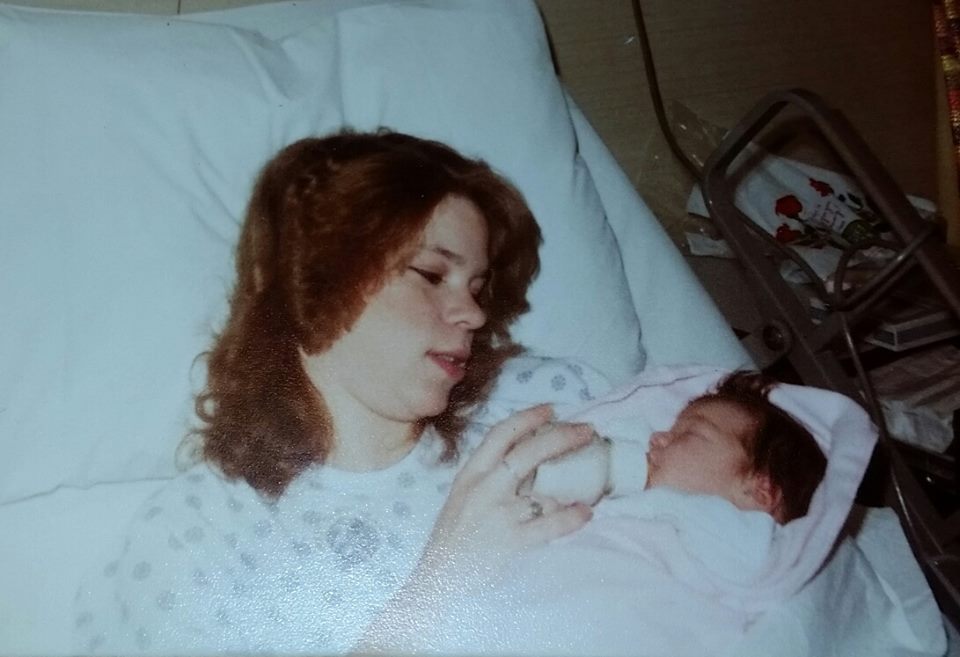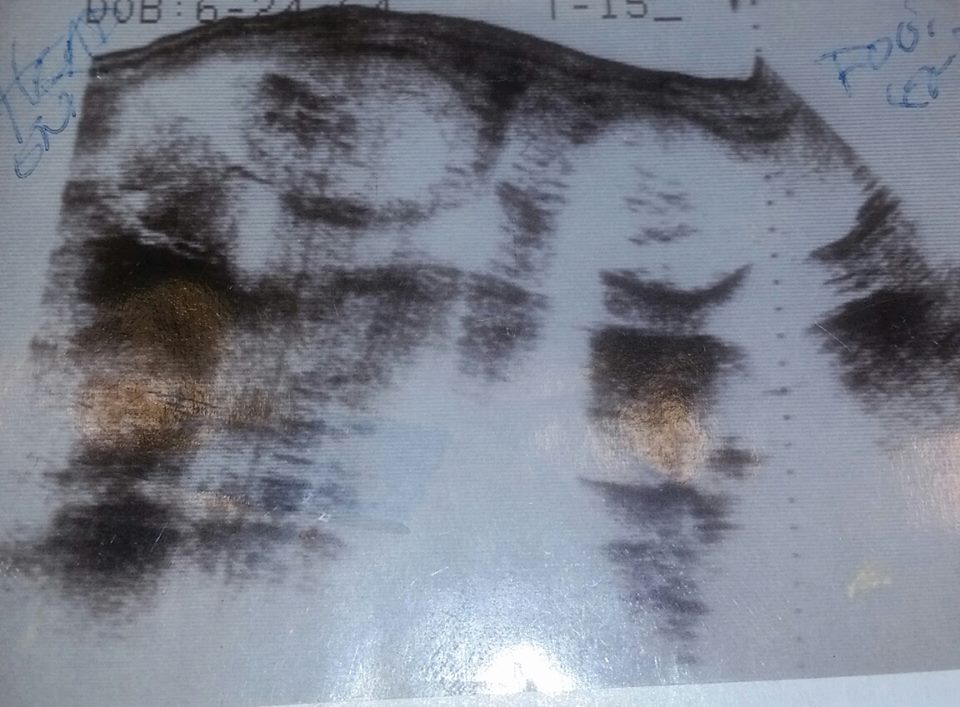 Some things aren't meant to be written- they are meant to be felt. I felt every word she spoke. I learned the name I was given at birth. I learned my past and of my Danish and Swedish heritage. I struggled in how to hang up or what to say. She said she loved me- that it had always been the case and she said I mattered so much more than I knew. I didn't know how to tell her that I loved who she was for so long, that it was going to be an emotional turning point to love an actual human being. But, I know she understood. We spoke, less than 24 hours of the picture being put out into the world because of the same viral nature of social media that I've grown to despise with its outrage and negativity, helped us find one another. The world shifted for a moment, and there we were.
Back to the beginning 
I had built Aimée and the circumstances of my birth to such a point that I realized my entire life, I've been overachieving to prove that I mattered. To prove I was worth keeping- without blood ties, engagement rings, vows, fairy tales and happily ever afters. I had ached for my "could have been" moments for far too long, I reasoned then. My mother and father listened to all this over the phone just after Aimée and I had gotten off. Everyone loved me. I wanted so badly to recognize the catch. There was no, "but." No, "They can't know about you." And then, people started messaging me and friending me on Facebook with incredibly-emotional words. "I've been waiting to hear from you!" they said. I had cousins and an aunt- an entire other family who always knew about me, had seen my baby picture and wondered, "what happened to her. Is she still out there?"
There are moments where it seems too much. I've had over 40 calls in the past 24 hours. I keep saying, "I just don't know how to talk about it yet." That was, until the call- just minutes ago with my friend who so wisely helped reiterate my own confusion and disbelief. I realized then, something absolutely miraculous. I was trained for this, by someone I miss every day.
My Aunt Chickie was my mother's best friend- my favorite person in the entire world. Chickie has permeated my life with some of my most treasured memories. Chickie was verbose storyteller, fitting as many words into sentences and emotions as she could. I was always, "Dear Kate." Or, "Sweet Kate." Everything was an exclamation, words were capitalized to show deep emotion. Her ability to love with joined letters, had been a guiding force in my life. My favorite photo, has Chickie standing outside by the ocean. My mother gave it to me after her death many years back, telling me this is was how Chickie should be remembered. She was not perfect- that I knew. There was something about her and her ability to love,  over-love and over-communicate that has stayed with me. The moment I saw Aimée's photo, I messaged Chickie's daughter Beth. I said, "My god, it's her. Do you see it?" And we both did- instantly.
I think of Jenny Spring- a favorite character in a movie from long ago. Jenny Spring was forced to choose between two families, because her face was on a milk carton; a misunderstanding from decades before. As an adopted kid, I so identified with it all. I was lost, but then I wasn't. I was found. Then- I needed to forget about being lost at all. I never wanted to have to choose, and thankfully… it turns out I don't. I told Aimée, "I've had a really good life," and that wasn't a lie- not even close. I don't know how it all looks from here, or what it'll feel like.
I'm called "Sweet Kate" now. I listen to the words, "You are so loved!" I hear Chickie in Aimée's words- a sort of safety net that proclaims, "it's okay because it's really, really real." I'm cautious at 34. Many new friends, but never another mother- mine has firmly cemented herself in my life- always, always. She's the woman who helps me reason at 2 a.m., and who reminds me in her own mother's Irish sayings to, "stop worrying until the snow is in bed with me." I listen to my mother, mostly.
I know Aimée and I are type-A over-committed to boards and over-achieving neat freaks…  remarkable traits to have in common. She's thoughtful and beautiful- like looking into my own soul. My birth mother is a cancer survivor- someone celebrated and loved, someone to look up to and learn from- to take in for every moment I can. She's a life-changer.
I know I am the daughter of many people- it's now firmly cemented in my brain to remember: I am all that came before; a collage of the verbose, succinct and driven. How wonderful to be pieces of every woman who has loved me.
But, I can't believe I'm actually Swedish. Ikea scares me.
If you're an adopted child, I'm cheering you on. I'd love to read your story as well, (as wonderful, horrible, or indifferent a it may be.) Comment below or email: thegirl@girlmeetsgeek.com