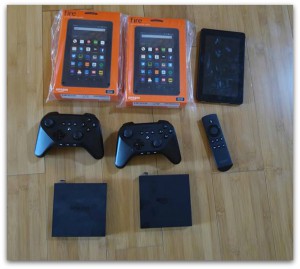 I write this as I've been shaking my head for nearly an hour. Just this morning, a friend shared that Amazon would stop encrypting data on all fire devices. This decision includes, Fire TV Sticks, Fire TV, Fire Tablets and Fire Phones.
TechCrunch has the only article about Amazon dropping encryption that you need to read.
"In the fall when we released Fire OS 5, we removed some enterprise features that we found customers weren't using. All Fire tablets' communication with Amazon's cloud meet our high standards for privacy and security including appropriate use of encryption." (Amazon statement, March 4, 2016.)
What is encryption? Encryption is essentially a safe inside your home. You'd need a key to get into your home, an an additional code or key to get into the safe. While nothing is "unhackable," encryption offers an additional layer of protection between you, (the consumer) and hackers. Instead of your device being a one-way mirror, with you being able to peek in and see everything you want, the device could become a two-way mirror, allowing others to see what you type, where you go and what applications you use.
But this is for the upgrade of Amazon's Fire 5 OS (operating system;) it doesn't matter right now, right? Wrong. All Fire devices will have to eventually upgrade to the 5 OS version. If they do not upgrade, security issues may arise with hackers being able to get into outdated versions of the software as they find opportunities. If you do upgrade to 5 OS, Amazon has removed the safety net around your device, so you have few options.
Why does encryption matter? Think of what you use your device for daily. Sometimes, on my kitchen device, I check recipes, or my bank account. I use my Wells Fargo app to put in checks. And, I also use my device to send texts and make calls via Google Voice. If all my information was suddenly used for other purposes, I would feel betrayed and angry. I imagine anyone would- this is why Amazon.com's decision is especially powerful: It's holds serious implications for those that purchased items.
Why I'm taking such a hard stand: For me, Amazon's decision to REMOVE encryption, (keep in mind they are choosing to REMOVE a layer of protection for consumers) is scary as I bought additional Amazon Fire devices a few weeks ago to begin transitioning the home I purchased in May to a, "smart home." This means, I was going to mount several a few tablets and items in my home for tracking movement downstairs, break-ins with camera equipment, tracking temperature sensors and allowing my older child to press a button if she was scared to alert me in her room. I also integrated our Vivint security with the app on our devices to allow us to control our system multiple ways and change temperature, etc. Without the ability to protect my passwords to the device and my applications, someone with enough knowledge could disarm my devices or home, simply by hacking in.
Still don't get it? Removing encryption would be like buying a car from a dealership and the dealership refusing to encrypt the data in your car so that your car was more easily hackable- causing stress and the possibility of accidents. By Amazon ending encryption, they are basically stating that your information cannot be protected because they are outright refusing to protect it. Your data and their device, is no longer their problem. This also comes on the heels of iOs, (Apple) refusing to offer the FBI a "backdoor" or a "secret way in" to iPhone and iOS devices. Apple took a very hard stand, while Amazon simply said, "encryption doesn't matter. Anyone can come in!" This is extremely troubling. And, for a 10+ year android fangirl, it's causing a massive internal struggle for me. I'm very much in favor of Apple NOT creating a backdoor as everyone has a right to privacy. (Keeping in mind it was the FBI's "fault" for erasing the username in the device they've been trying to get into to begin with. If the FBI hadn't deleted the username off the San Bernardino terrorist's phone, there would be no need for a back-door solution.) Could Amazon have removed encryption to keep their company from possible fall-out with government over devices? Apple is currently taking on the FBI and that decision, will be a landmark case for all devices. (Does Amazon know something we do not?)
So what now? When a company loses my trust, they automatically lose my dollars. I am in process of turning off and switching out all our Amazon devices.
I currently own:
1 Fire TV Stick
2 Fire TV consoles (with over $150 in games/apps.)
4 Fire Tablets
2 Fire TV Controllers
At my estimation that's $750 worth of Amazon.com tech, not counting tax/shipping and time spent in research. (Not to mention I just removed the new Amazon echo from my cart.) Luckily, I test drove (and fell in love with) a NVIDIA shield over the past month. After I handed it back, I was pondering how I could even begin to justify the $299 price tag. (That, just became a helluva lot easier,) especially as I'm returning my Fire devices I just purchased to Amazon and selling my Fire TV's. Nvidia has had a few security concerns in the past. (hackers using graphic card access to hurt wifi settings, etc.) But overall, the $299 price tag protects my family and gives me more games and applications than the Fire TV or line of devices.
Even more so, I'm taking Amazon's irresponsible consumer practices to heart. I've been a Prime member for as long as they've offered it. And, with all our media and back-ups, (photos/videos) on Amazon Cloud, I'll be removing my data from their platforms to a more secure location. If they clean their data practices up by 2017, I may consider renewing my Prime membership. But- until then, I have no choice but to take my business elsewhere- which, is a heartbreaking, heartbreaking thing. As a mother, I rely on Amazon for everything from Prime Now delivery of bananas to our bulk Prime delivery of toilet paper and paper towels.
 Note: If you're looking to offer yourself more protection on android devices, (while using Chrome) this is a must-read.  And, you can always look for privacy posts, (especially opt-outs) on girlmeetsgeek. Click right here.