"Using a pen name guts the accountability that underpins journalism." – Jeremy Barr, Poynter
The Star Tribune printed a seriously misguided op-ed this morning on Jason McLean's sordid history within the Minneapolis community. McLean, proprietor and owner of Loring Pasta Bar and the Varsity Theater, is currently being investigated for sexual assault and abuse dating back decades- when he was an actor with the Children's Theater Company. As a sexual assault survivor, I found the piece to be almost unbelievable, first attempting to praise McLean's work, then criticizing those that believe he should be held responsible. (The writer went so far as to call McLean a "visionary," attempting to re-brand his (alleged) appetite for molesting children as "flawed, tempestuous and rebellious.") A comparison to ISIS was thrown in at the end for seemingly good measure.
"So what I would suggest is this: Follow the story, sure, but do not rush to tear down these iconic establishments — these poems to Minneapolis — like some ISIL mob destroying tombs in Palmyra. Visionaries with talent (flawed, tempestuous, rebellious) are not born every day, and their work is not easily replaced." – Olive Allen, Minneapolis writer and author of "In defense of Jason McLean." (Star Tribune, 1/25/16.) 
I
tweeted about 8 hours ago
that I was in shock that the publication would print or give space to such bizarre commentary. In speaking with a few individuals online and off, we all came to the same conclusion: Who was the writer of the piece, Olive Allen and why would the paper publish such irresponsible drivel? I want to believe the Star Tribune published the piece as a ploy for readership- nothing more. But now, I believe it's the work of a lazy editorial staff who never bothered to fact-check the named penned on the Jason McLean piece. Could it have been done to sway public opinion by a legal team or public relations before his trial begins? After multiple searches, I couldn't find an Olive Allen who was a writer in Minneapolis- that's when I knew, something strange was going on. I just didn't realize the extent of it all.
Do opinion pieces need to be source-checked like regular articles? Some newsrooms go the extra mile to understand the relationship between the author of the op-ed and the subject. The Star Tribune dictates the 
following guidelines
 for its Letters: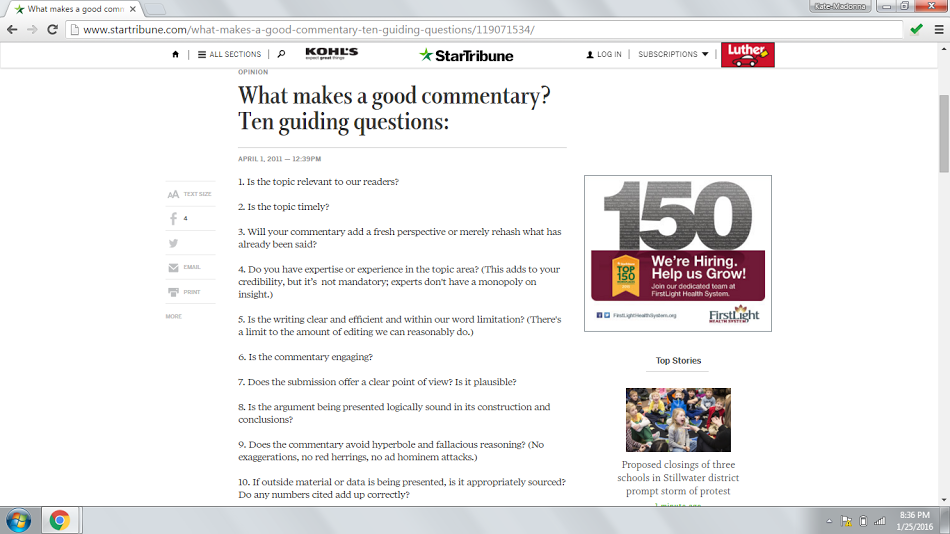 Poynter questioned in 2014 
if pen names were ever appropriate in journalism. Two years ago, the Washington Post pulled down a piece after an 
individual questioned
 the author's real identity. While pen names can have their place to protect the writer, Olive Allen didn't seem to have anything to gain or lose with this piece. Who was Olive Allen and what relationship did she have with McLean to write such a one-sided and reckless letter?
The only Olive Allen with a connection to writing that any of us could find, was a woman who if our math was correct,
would be over 120 years old
. One friend noted that Allen was a part of the National Association of Journalism Directors in WWII. We found a comment, with the name, "Olive Allen" on a post about the space that the Loring Pasta Bar sits upon.
That post- from 2002
, has an Olive Allen commenting on a stock photo, speaking of her father's graduation of the University of Minnesota Journalism school. That is the only place her name is on the web, other than a
strange Facebook profile with 7 friends
 or a
younger woman, living in Minneapolis
.  My money, however, is on
Olive McLean
- a hostess at the Loring Pasta Bar and someone who just
may be Jason's daughter
. Take a peek below: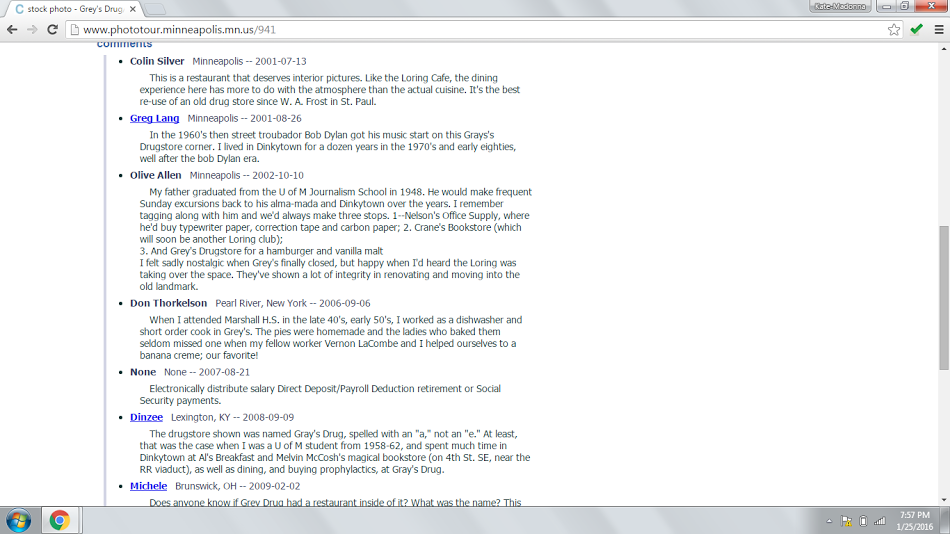 Shares of the opinion piece were swift and far-reaching, 
already the Star Tribune has published a counter-point
- which for some, may be too little too late. When editorial standards fail, readers lose and should the public relations industry have a hand in this, it damages the industry as a whole.
I hope the Star Tribune does the right thing and investigate how this piece was published, given it skirts the grey in declared editorial standards and the added caveat that there appears to be no Olive Allen at all. Had the Star Tribune done  a quick search on Allen's name and their due diligence, we wouldn't have farther harmed sexual assault survivors who are afraid to come forward. After all, it took decades for McLean's victims to come forward and speak out- all to hear that he was still, "a visionary." Troubling at best and irresponsible at worst.