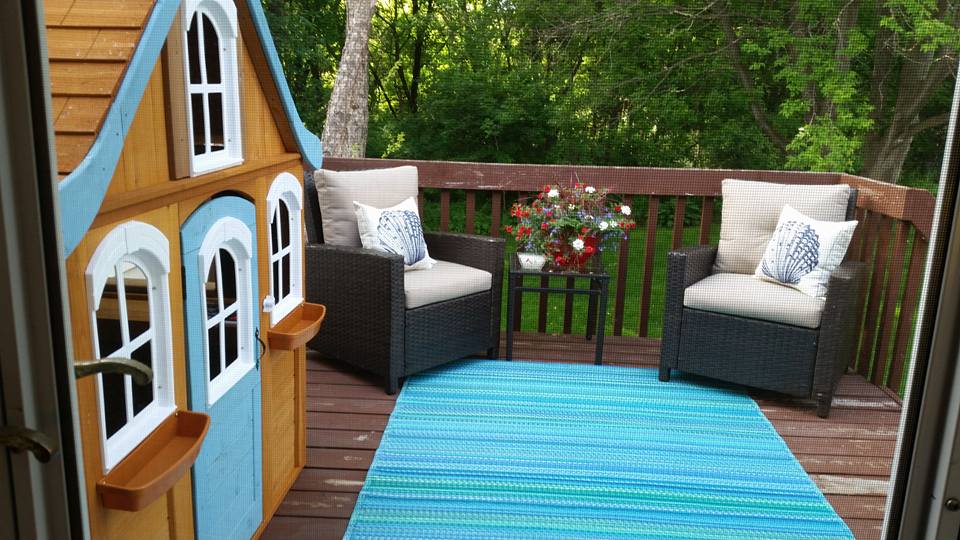 "Come on, Danny! We need to get out the door." I try to coax my toddler to put on his elmo shoes as he tearfully begs to stay home and play with the water table. Ava bounces out the door with her bracelet kit for Grandma daycare and I manage to hold my laptop, lunch and a squirming (almost) three year old little boy.
The deck greets us every morning with the sounds of nature. We sit high above the grass below, backing up to woods and trees. The playhouse lives just outside our back door- a bonus house of sorts. The water table is its neighbor and we've built a community of utter fun. To each one of us, it's still exciting.
Life is very much still the same. But life this past month, has become so much different- it's become MORE. I have more creativity, more room and more opportunities to make this my very own. There's been more debt and more stress, too. More of everything, actually. We bought a house. And, more  is the perfect way to describe it. It's the MORE house.
I never thought I'd get to the point of home ownership. We were renting a townhome with almost 1200 less square feet. We were saving money and our landlord let us know they were going to sell. Were we interested? As much as I wanted to be, the kids were sharing a room and we were stuck in 100 square feet with a couch and toys. It was difficult to have people over. We had less worries, less space and less opportunity there. But how on earth was I going to qualify for a loan and find a house in about 4 months? It was just me, and two children- the thought of owning something didn't cross my mind. We focused on, "less."
It's quite the story, you know. This house wasn't going to be ours. We had an offer in on a home much farther away- in Shakopee. We drove by weekly and I was in love with every inch of the lot and the neighborhood and school. That home was fully updated with light oak cabinets for miles, beautiful flooring and a garage that had been converted into a playroom. Affordable and stable, I thought that home was going to be where I raised my children. Then, the radon was high. Suddenly, it didn't appraise. We were $10,000 away from our dream. Nothing was lining up.
I had to let the house go. It was like every failed engagement I've experienced: It faded away as I stood wondering what had happened. Life doesn't stop to comfort you, or help you understand. Work days came and went, I switched realtors and loan officers and on a whim when a house popped up on my feed, I drove by.
I've read in books and magazine articles the moment someone feels they've found, "the one." That instant connection- the unexplained tie to another individual that touches heart and soul. I've not experienced that, yet. Perhaps I'm too pragmatic or too consumed by, "what if," but the closest I've ever come to falling in love at first sight, included a yellow exterior and a front path that said, "Kate, I've been waiting."
There it was: Across from a roundabout on a quiet, dead end street, it begged for geraniums and solar lights. It needed a welcome sign and a few too many pairs of shoes in the front entry- I just knew it. In the 90′s and early 2000′s, the home sat in a quiet retirement community. To me, it reflects Americana and weekends grilling and a type of peacefulness I only thought happened in small towns, or the woods. As I type this, the windows are open and a random breeze brings in the smell of the woods behind- warm earth and freshly cut grass. It's quiet all but for my washer and dryer that are hurrying the last load so that this tired mother, can finally go to bed.
I could tell you of the mold, or the mice. Of young Greg, who died in the bedroom, (after we were told a nice couple had made this their home.) S0meday I'll share how the floorboards weren't nailed down and the front steps weren't up to code and how there's still a family of furry animals living in the fireplace. But for tonight- with the bedroom fan circulating the lovely air over  the whisper of robin's egg blue walls- I'm poor and it was so, very worth it.
I often ponder, (and sometimes lament) that I never experienced a first dance of a wedding, or an engagement that lasted to a vow. I'll never be married 75 years, or probably even 60. But, for everything my life has lacked, I've been given insurmountable blessings: Two children. My health- after long battles. Friends and family that I'm overjoyed to have for dinner. You see, I have experienced unconditional love and the remarkable internal understanding of finally letting go- just not on my timeline. Somehow, I'm learning the most from a house that's slowly welcoming us into its darkest secrets and giving me powerful life lessons along the way: Be patient. Learn that understanding the grey brings you no closer to the truth. Don't fret the basement leaks. Buy the more expensive hose. Let them play until it's dark and their hands are stained and dirty and someone is inevitably on the floor, thumb in his mouth, while still crying.
That's the life.