I have advertising fatigue. It hit me especially hard in my spam filter and my Facebook feed. I'm sick of meaningless advertising where the call to action is regrettable, or forgettable at best. When I saw the advertisement from iYogi in my feed that explained for signing up, I'd get a $15 Amazon voucher, I had 10 minutes to burn on hold with, (ironically, Facebook's ads team as I was trying to update Business Manager.)
Typically when I see sales calls like this, it's never, ever, as easy as it seems. When consumers are asked to trade their personal information for a gift card or voucher, typically they don't realize the implication of the fine print. But iYogi claims they are BBB certified. So… what could go wrong? Take a peek: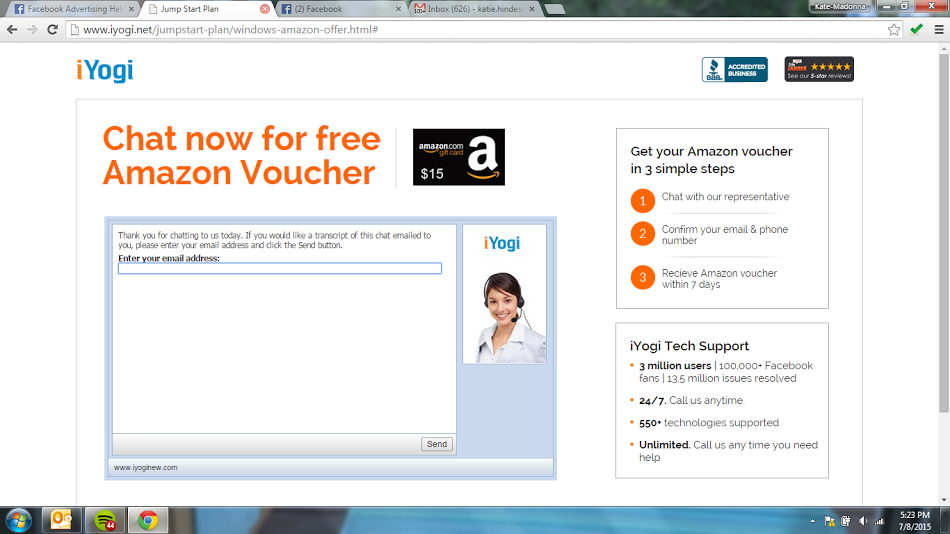 I shop for anything that wasn't once living or growing, on Amazon. I'm a fiend. A $15 voucher was either going to buy me 1/3rd of this week's order, or it was going to make an epic blog post.
I entered my information and chatted with the representative. She confirmed my email, (to which I have that email flowing into trash) and my phone number, (with GoogleVoice blocking.) I asked her if she would be selling my personal details to a 3rd party and she claimed, "no way!" (That means yes, if you're wondering.)
It was simple. I sold my information for a $15 Amazon voucher. Then, she wanted to call and confirm it was really me. So, of course, I said, "sure!" But then, she had to ask me all sorts of other personal details. "How many home computers do you have?" I mentioned we had eleven. "Do you have tech support on these devices?" I explained that we actually did have everything covered. I asked when I could expect my gift card and she said that it came with the services.
Well, crap. That was a twist I wasn't expecting. So, it wasn't as easy as, simply chat and you get free stuff. (Isn't that surprising?!) I actually had to PURCHASE the plan they were selling. I thanked her for her time, but before she hung up, I wanted to make sure to get the answer that you actually had to BUY the plan to get the gift card- in writing.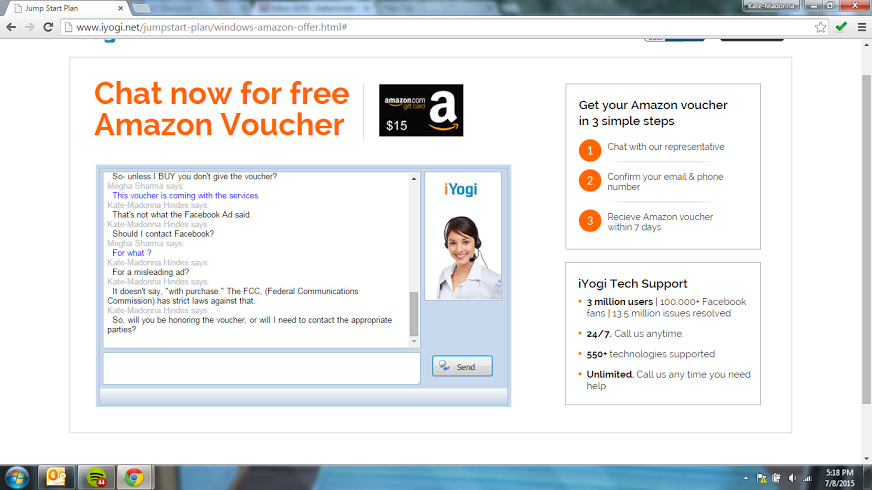 And that's when they hung up… or rather, wouldn't let me type anymore. I took a peek at their Facebook wall. A few people were also complaining. I tried to find the original Facebook ad, but since I had converted, (or clicked) it wasn't going to show the ad to me again. So then, I grew curious. Wasn't this bait and switch? It didn't say in the small print that the plan had to be purchased. Who on earth would want to know about this? Turns out, you can report false advertising a few places.
You can report iYogi to the Better Business Bureau.
You could even report it to Facebook as false advertising or a misleading ad. But, you have to know HOW to do it. If you go to Facebook's Advertising Resources, click on, "Live Chat." (Note: After-hours, the live chat function is gone.)
The FCC handles broadcast advertising, (on-air,) and the FTC handles deceptive advertising. Here's their respective page: FCC and FTC. I tend to report social both ways- because social technically falls in FTC guidelines, but it's good to know the difference. (I didn't get to ask in the chat about the FTC.) The FTC has an excellent page for, "Truth in Advertising." 
Remember: Know WHO you're giving your information to and HOW they are using it. Also, take the time to report misleading advertisements and those that are unethical. It only takes a few minutes and can save someone else the hassle. I didn't get a $15 gift card, but rumor has it… I've got a high-five on the way.