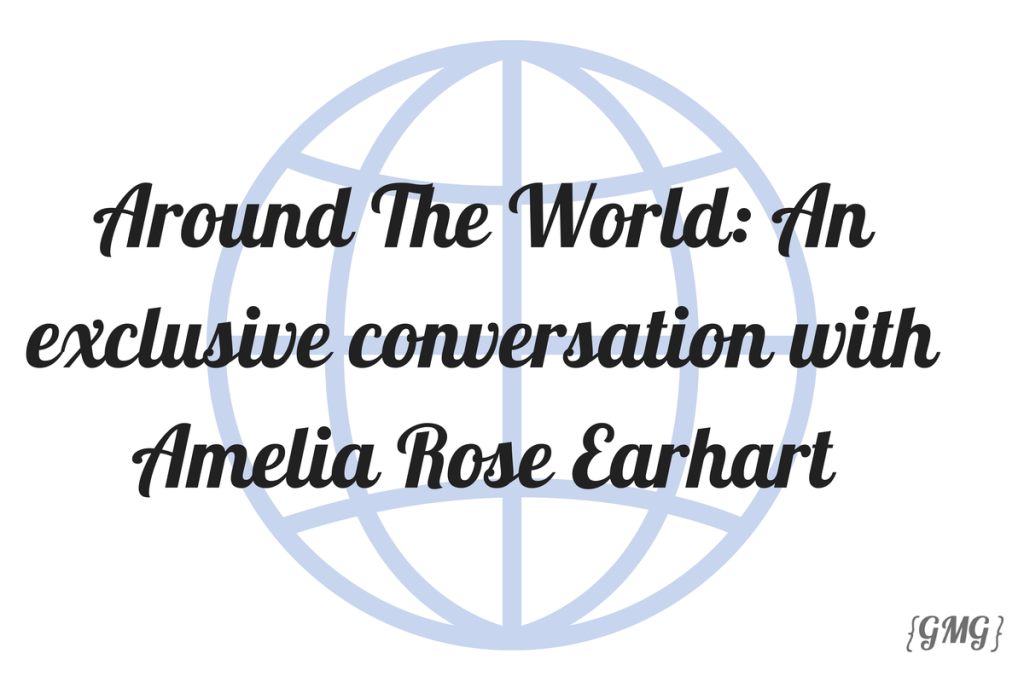 When I was much younger, (who's kidding, it was like 10 years ago,) I became obsessed with what happened to Amelia Earhart. I had to know every story, every fable and all the wacky conspiracy theories in between. Little did I know that a decade later, I would have the incredible privilege to interview Amelia's own namesake, Amelia Rose Earhart about her recent successful flight around the world. Below is our Q&A session.

Amelia's legacy stands alone because she disappeared while in action, leaving a world of encouragers with the feeling that her path was not yet complete. This woman was not alone in her room, staring into space while sitting on a park bench, fading into the distance, but rather she had slingshot herself around the world, taking thousands along with her, thousands who were impatiently awaiting her return. Very few people that I meet feel that Amelia will never be found. The majority of people I talk to seem to hold out hope that the mystery will be solved.
Rather than focus on her disappearance and death, I choose to focus on her craving for forward movement, the life that she led while she was alive. Amelia chose the path that most only dream of: abandonment of fear in return for discovery of self. Being named after a woman who truly took her destiny in her own hands, I have been gifted the consistent encouragement from a real life superhero. I was given this gift by my parents, and for this reason, I feel that it is my responsibility to share this enthusiasm and rejection of fear, especially fear of seeking one's personal adventure, and share it with young women who know they have something special, but need a little help, a catalyst toward achievement. I feel like Amelia would support what I'm trying to do. Strong, caring, passionate women are the best role models and that's exactly what she was.

Sharing weaknesses can be a fantastic gift we can give as women. When we discuss the difficulty along with the achievement, it takes away the misconception of 'overnight success' or a 'magic bullet' that suddenly puts us where we think we need to be. About two months out from our departure date, I had completely convinced myself that the trip was falling apart.  I created such high standards of what I thought the flight should look like that in my mind my partners and sponsors were ready to pull out, write me off, retract funding and call me out on my inadequacies. I called my friend Tripp, a personal coach that I have known since college and explained my feelings. He said, "Have any of your partners expressed to you that they are getting less from you than they expect?" "No". He quickly told me to stop worrying. He essentially encouraged me to lean in to the heart of what I love about the trip. Lean in towards the adventure and the giving and the inspiration that the girls can get from the flight. He told me to start appreciating them, appreciating the process and know that any big success would be a less interesting story if it came without challenges.
My perception of my inevitable failure was simply a mind game that I had created myself. As women, we can overthink tone, inflection, email, text messages, but when it comes to overcoming these games, we need to take a step back and look at what is being asked of us. If we don't understand, we need to ask for clarity. My problem was wanting to be an overachiever for everyone, when all they wanted was a response to an email.
Define your own true north and never forget what it feels like to be solid in your heading. For thousands of years, people have used the Northern Star as a point to reference all other stars around. When North is clear, you know when a turn takes you in a different direction. For me, True North is a passionate, shoulders back, head held high, stride toward giving, inspiration and positivity. If my projects fit that feeling, then I am on course in the right direction. If they don't fit, I reassess and either make changes to get there or completely change my plan. It feels great to know what works and what doesn't.

Celebrations and time spent in reflection are absolutely critical when it comes to rounding off a huge goal. I had a personal celebration after the hoopla and media was gone in Oakland, after we returned from the world flight. I sat in the plane, alone. I gave myself one last time to soak in the experiences and the hard work that got me there in the first place. The smell of the remnants of fuel in the cabin, the sound of the hollow metal, fuselage, the latch of my harness and the feel of the throttle in my right hand. This personal celebration is one I will never forget.
Of course, a bottle of Prosecco shared with friends while sitting in the cargo compartment upon our return to Denver was also a joyful moment.

For anyone putting themselves out there, living the life they have always dreamed, discouragement and negativity is a factor. To deal, I first stopped reading the comments in articles, television reports, blogs, all together. Anger needs an audience. If I'm not there to read the comments, they have no power over my thoughts. It took a long time to get there, but it is one of the things I am most proud of.
One thing I like to consider is that the only time that I have torn others down in their pursuits toward passion is when I am in a terrible place in my own life. Misery loves company; so those who are putting their negativity out into the world are looking for someone to take their side, "like" their comment, form an alliance against good intentions. To them, I wish them the best. If I could look each one of them in the eye, give them a good solid hug and take them for a cup of coffee, I would. I'd willing to bet that we have a lot more in common than they ever imagined.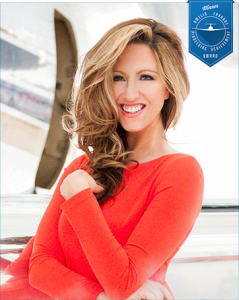 Amelia Rose Earhart is a passionate aviatrix, a seeker of all things adventurous and an accomplished public speaker, spending the last 8 years working as a television and radio reporter covering breaking news, traffic and weather in Denver and Los Angeles. Amelia is the President of the Fly With Amelia Foundation (501c3), which grants flight-training scholarships to young women, ages 16 to 18, and fosters aviation and aerospace opportunities for people off all ages through aviation based educational curriculum. Find out more about Amelia's journey at: The Amelia Project. 
Special thanks to AJ at 451Marketing who made this interview possible and helped me inspire my daughter to get off the iPad and get to the library to get an Amelia Earhart book. If your daughter is like mine, make sure to unleash her on these great Amelia-approved links.