Automatic videos. You've seen them as you scroll through your feed and you might have not-so-silently proclaimed, that this was the worst idea since Facebook decided to play a game with our emotions. The great thing about the videos, is the sound is turned off- so if you're in a public place and scrolling through your feed, you can't disturb others. However, as some have noted: It might be data-guzzling machine of doom, warned The Guardian.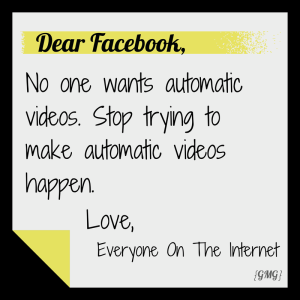 Want that feature off, for good? LifeHacker has a fantastic step-by step guide for iOS and Android Devices as well as the desktop. (Leave it to Facebook to make the shut-off only work when you're not connected to Wifi.)
For Facebook on the desktop, you can turn off auto-play videos in your settings:
On Facebook, head to the drop-down menu in the upper right-hand corner and go to Settings > Videos. You can also click here to go straight there.
Safari users may have to try using another browser, as some people are reporting that this setting does not show up in Safari for some reason.
So, why did they do this to video, anyway? Facebook is clearly trying to get more game with advertisers and after a continuous stream of bad press about why advertising on Facebook's platform isn't worth the money for smaller brands. What's the social giant to do? Force users to watch video, no matter what. If it's moving on the feed, it'll certainly get more eyeballs than those that stand still. With the ability to claim more eyes on an advertisement, Facebook can now ask more from brands in reaching their target audience.
Read More about Facebook's next advertising steps by clicking here….