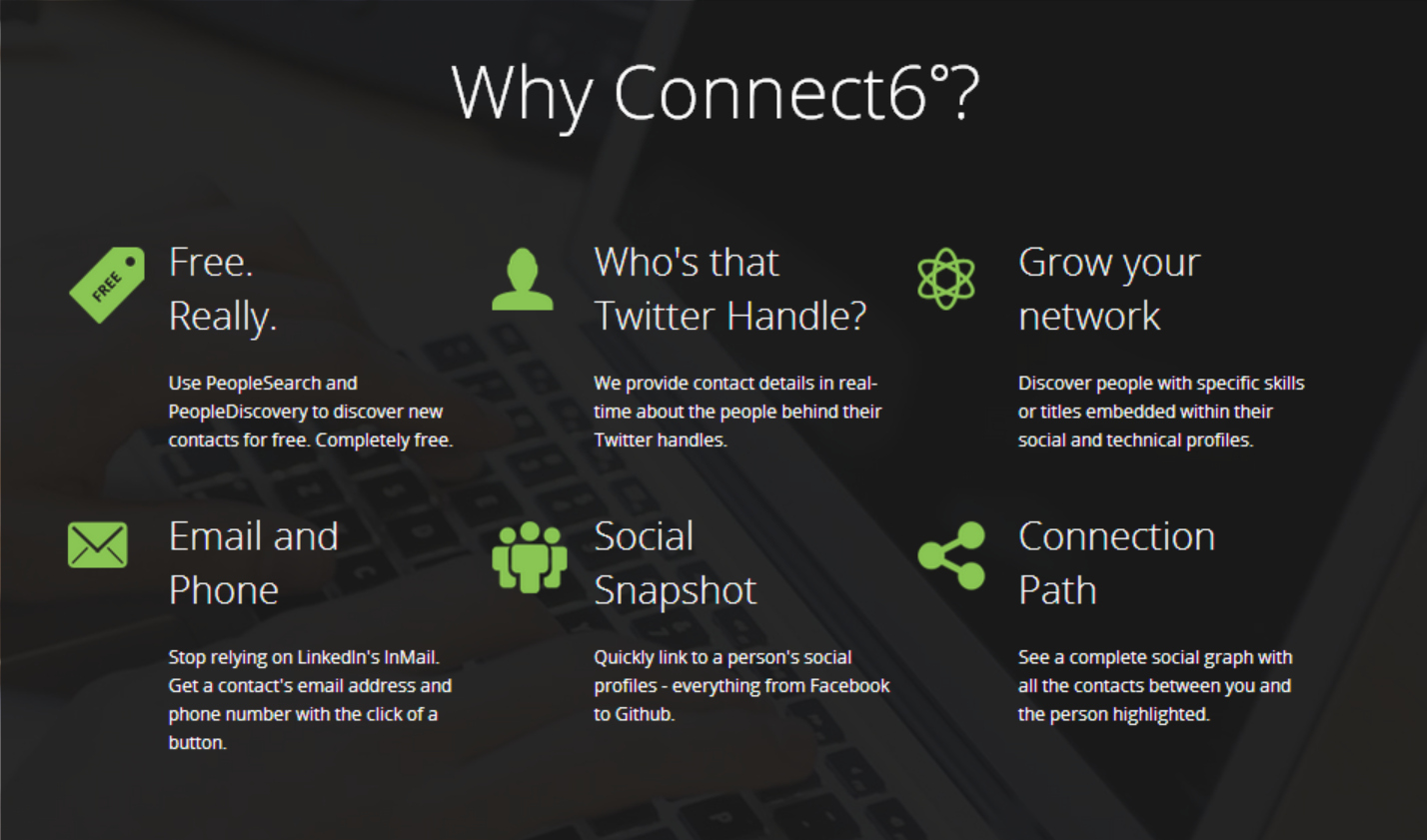 "It's interesting what people will do when you state they have to pay for something. We don't sell anyone's data. The data we provide that we may be selling comes from a 3rd party and we showcase where it comes from. We're only grabbing publicly available information. We take the time and hassle to do that. Privacy should be fair. People can certainly opt-out of the service and have their email information and phone information removed by contacting us."  - Dean Nicolls, Co-Founder, Connect6
.:A Great Call With Co-Founder, Dean Nicolls:. 6/17/14 UPDATE
At 12am this evening, I was on the phone with Connect6′s co-founder, Dean. You'll see the article was updated below with a few points. We had a fantastic conversation about Connect6 and privacy issues. He expressed the fact that the team put much thought into the tool and privacy and wanting it all to easily understood. I asked him the question of, "How did it all start?" Dean worked at a company with other founders called, LiveOffice, (a cloud-based email archiving company.) They would archive people's email for companies, (Fortune 500, mainly.) His passion lies between bringing the right profiles together and aligning connections. Connect6 is clearly a social selling tool. There are recruiting elements, sales elements and lead elements. I brought up the fact that community managers might love this tool for simplifying interaction with followers and fans. The hover functionality gives you all their details and social profiles to learn about the person behind the status update. As companies are getting smarter about social, this is definitely a tool they could use. Even for something as simple as selling on Craigslist, Nicolls brought up that you could vet the seller before you go over to the house.
 "I didn't realize we'd be so brazen with our ad."  Nicolls explained that Connect6 uses their own algorithms to target their audience who uses the tool. "Not only do we have profiles, we have ID's of people. That Facebook ad you saw, was intended for anyone with an angel listing. We have anyone on angellist.com. (I happen to after I did some research for a client.) We can precisely target people with advertising that is super affordable. It's cheaper than Google Ads and way more targeted. If I want to do a Facebook ad that shows up in your feed that says, "Hey. Pay attention to me," I can literally target just one individual. A single podiatrist in Minneapolis who likes to scuba dive. We use our own tool for queries."
At the end of the day, Connect6 plans to monetize their model with data not only in personal information, but ad information. "We haven't figured out the exact model, but at the end of the day, it's going to be about some free and some credits, but we can always scale up." I asked where the next advertising is going, since people are complaining and flouncing from Facebook in droves. With slowing both on Facebook and Twitter, (but still growing in aggregate,) Nicolls thinks that people will begin to truly have a say about their own data. "The pictures and data you post on Facebook is Facebook's property. I imagine there will be a time in the future where people will realize they want to own their data again. My guess is that if you give people that choice, they'll say Facebook. They'll vote with their wallet." I think Nicolls has an excellent point. He clearly knows his market trends and data.
"We applied the theory that we wanted to create connections. The use case for this is recruiting and sales. We have a powerful search engine. Literally, you could put: "Python" "Developer" Cloud" "MySQL" and you'll get all those keywords in the profiles. If you're looking to find passive job candidates, you can do that with the keywords that are embedded in their profiles. We're keeping boolean searching, but we're making it less daunting for recruiters." – Dean Nicolls, Co-Founder, Connect6 
.:Candidate and Lead Search on Steroids:.
This morning in my Facebook feed, I scrolled to see Connect6, who claimed they were the, "fastest way to discover and contact people." I've used a few Google Chrome extensions/plugins in the past to make networking easier, but Connect6 was confident they were going to blow the rest out of the networking pool. Their sheer amount of confidence piqued my interest.
"Connect6° has already aggregated more than 550 million social and technical public profiles from across the web, creating one of the largest searchable online databases for this data." (Tech.co) 
I downloaded their plugin from the Google Chrome page and the icon appeared at the top of my bar. (I also utilize a few others for simplicity in my personal online networking and privacy, which is both an ironic and hilarious juxtaposition.) Rapporative has been a favorite of mine for about a year and a half. With a few better features, Connect6 could take the lead.
While needing credits to give out personal info, For the foreseeable future, anyone can use the tool for free. To get an email, it's only one credit.) There's a cap for spammers, but Dean let me know that there's no cost to the service or user to get contacts.  The tool is  a welcome shortcut for those that are in the business of finding people. How do they make their money?
"People logically jump to the assessment that there is a cost. We need to be more clear that the tool is free and people can always contact us. The data comes from a 3rd party. There are situations where you can choose to get a contact and it'll say, "allow 48 hours." We will try to crowdsource the email address for our customers. We take publicly available information and index it. We only use public information. We don't source the private information. We're very careful about where we get the data from. It has to be able to be found on a Google search." - Dean Nicolls, Co-founder Connect6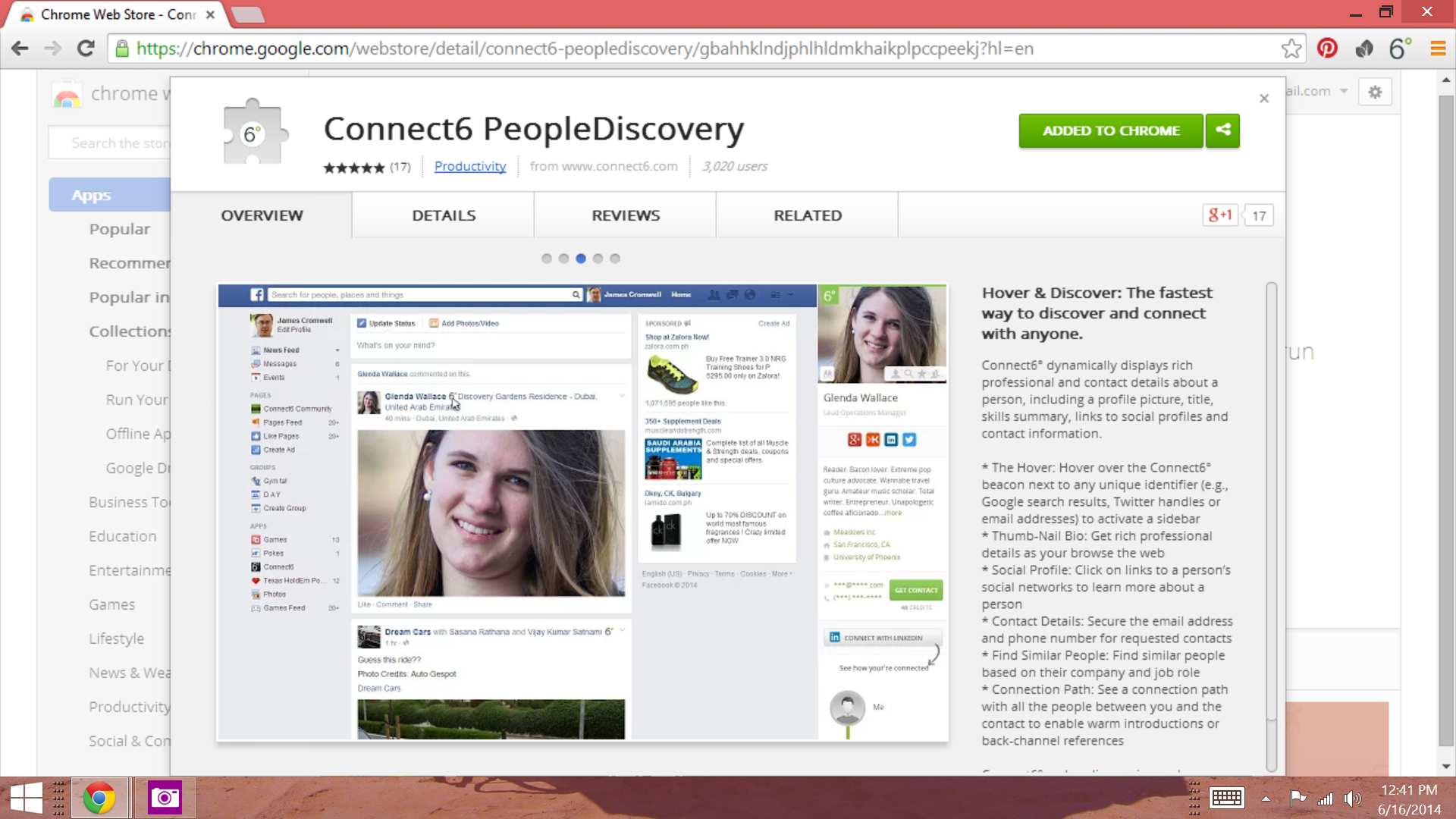 After downloading the Chrome extension, you'll see the 6 up on your search bar as well. Then, the fun starts. I can utilize Connect6 in most of my social networks, simply by hovering over the person's name. In Facebook, I hovered over my dear friend, Ryan. This is what it showed me: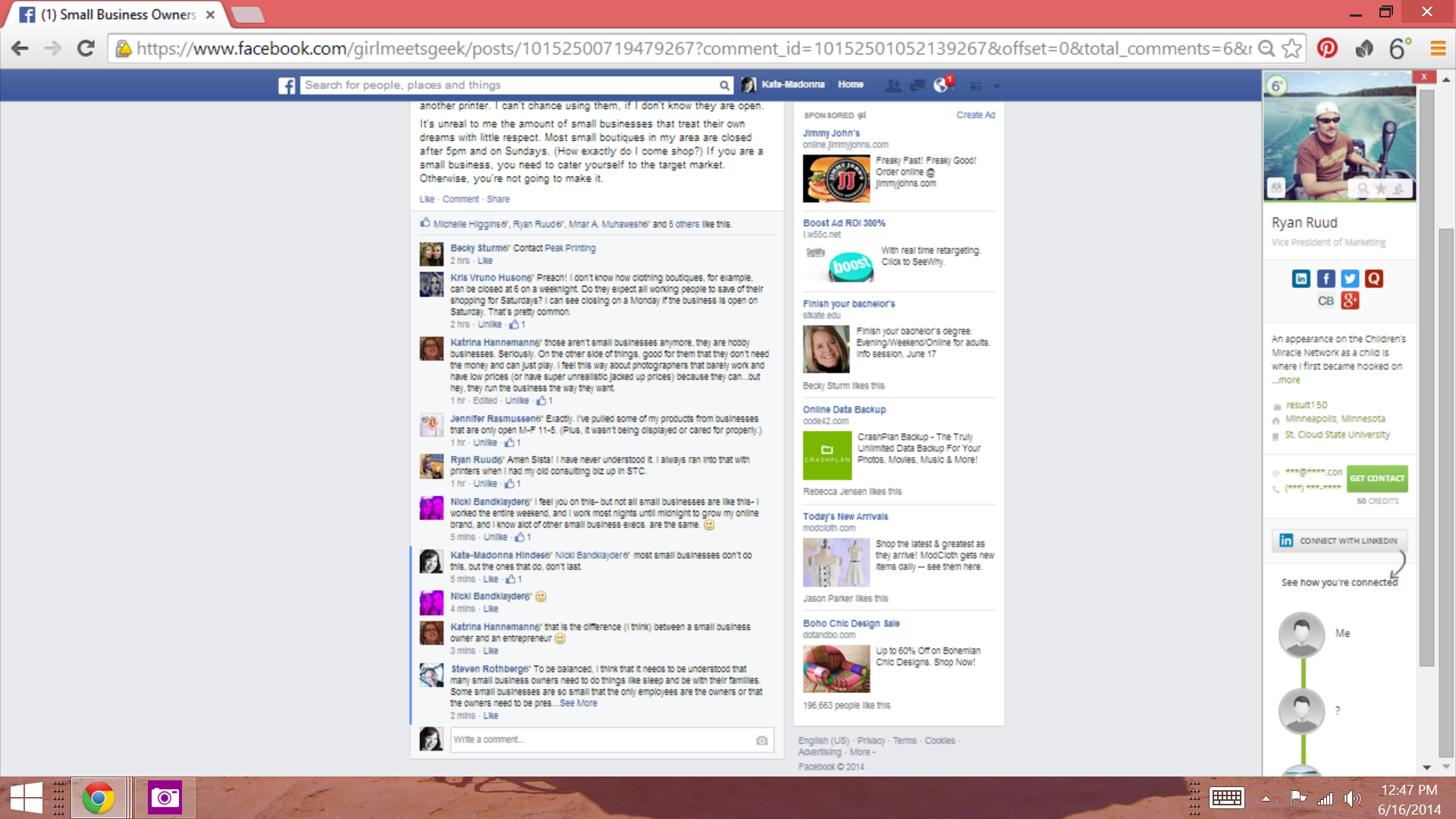 Ryan's info came up to the far right of my screen. His photo, connected channels and publicly-available details came to the surface as well. If I didn't know Ryan well, (for instance, if he commented on a friend's Facebook post and I wanted to reach out to him for more information, I could use 50 credits and get his personal information.) Even better, I could, "favorite" Ryan to a list to use for later. This is a great function for sales professionals, or recruiters searching on particular projects.
Let's look at how it comes up in Twitter. I once again hover over Ryan's name in Twitter and can see a profile photo and the same data. Interestingly-enough, the tool can't understand that I'm connected to Ryan yet, even though we are Facebook friends and Twitter buddies.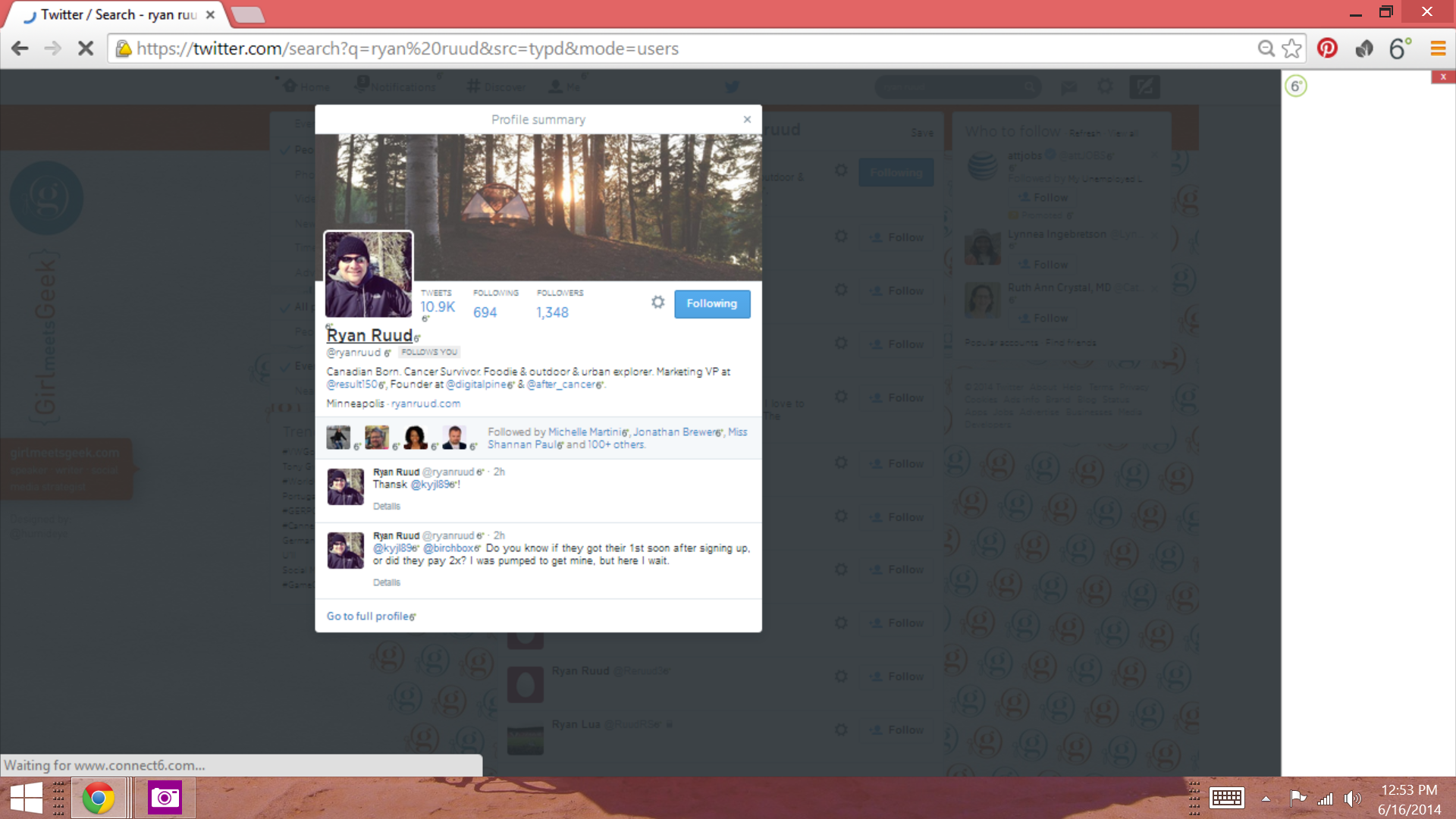 I thought, since Connect6 wasn't recognizing Ryan and I's friendship, that I'd pop on LinkedIn to see if they used LinkedIn's API to give insight to how it gets the info. Unfortunately, Connect6 still didn't understand Ryan and I were connected. According to co-founder Dean, it'll take about, "20 minutes, to upload the connections to the tool." The tool then will show that Ryan and I are connected as first connections with a solid bar between us. Thanks to a very late-night phone call with the co-founder, I received some top-notch training about the tool.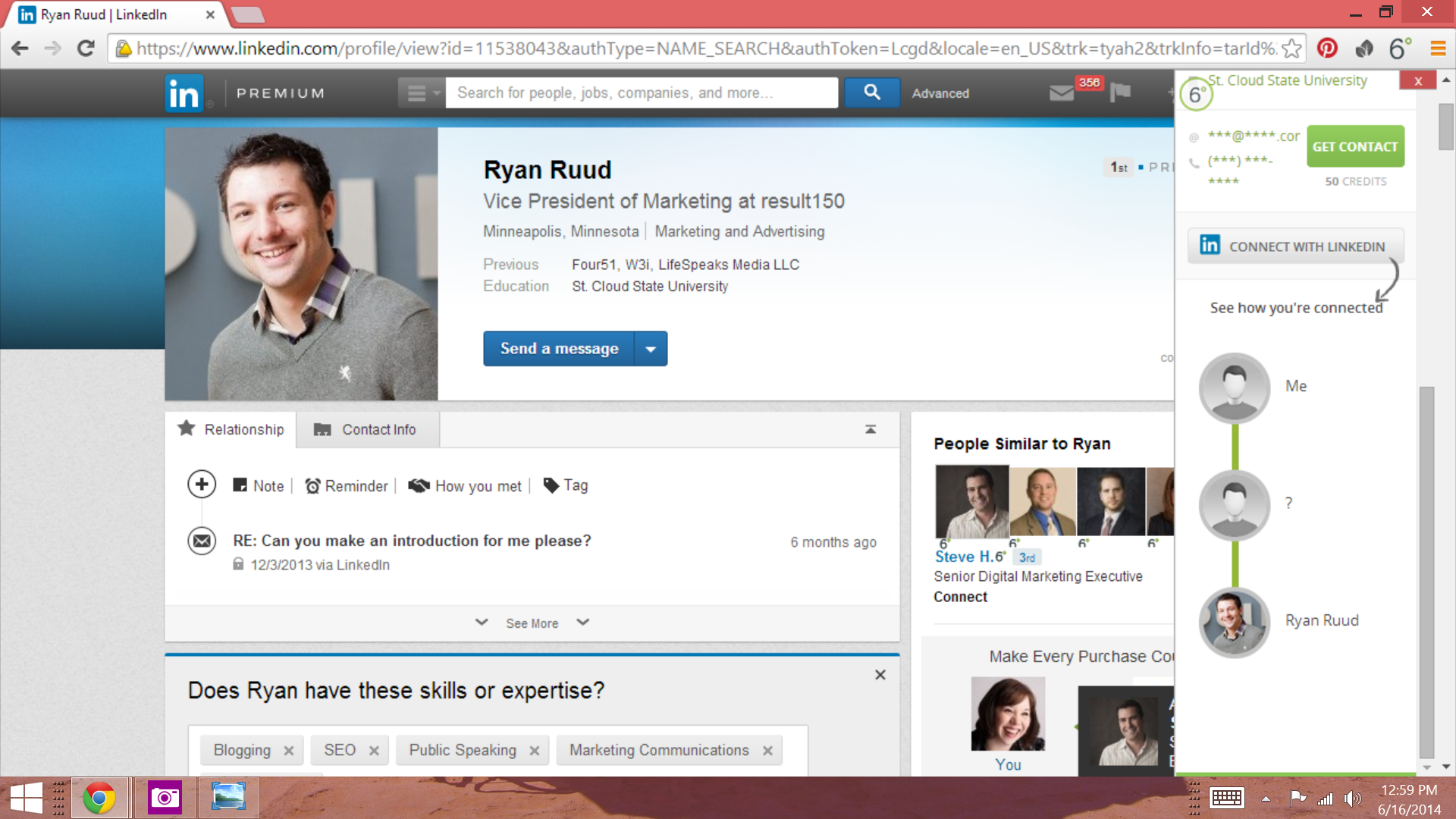 Connect6 offers an interesting service for sales professionals, recruiters and those that need personal information with a slide of the mouse. I mentioned above that you could, "favorite" individuals for easy research later. This tool is simply done by selecting the star, "favorite" icon in the individual's Connect6 profile. After selecting Ryan as a, "favorite" this is the page Connect6 led me to. Since I hadn't created a, "favorite" before, I needed to file him under something. Connect6 asked me to, "Create an Opportunity."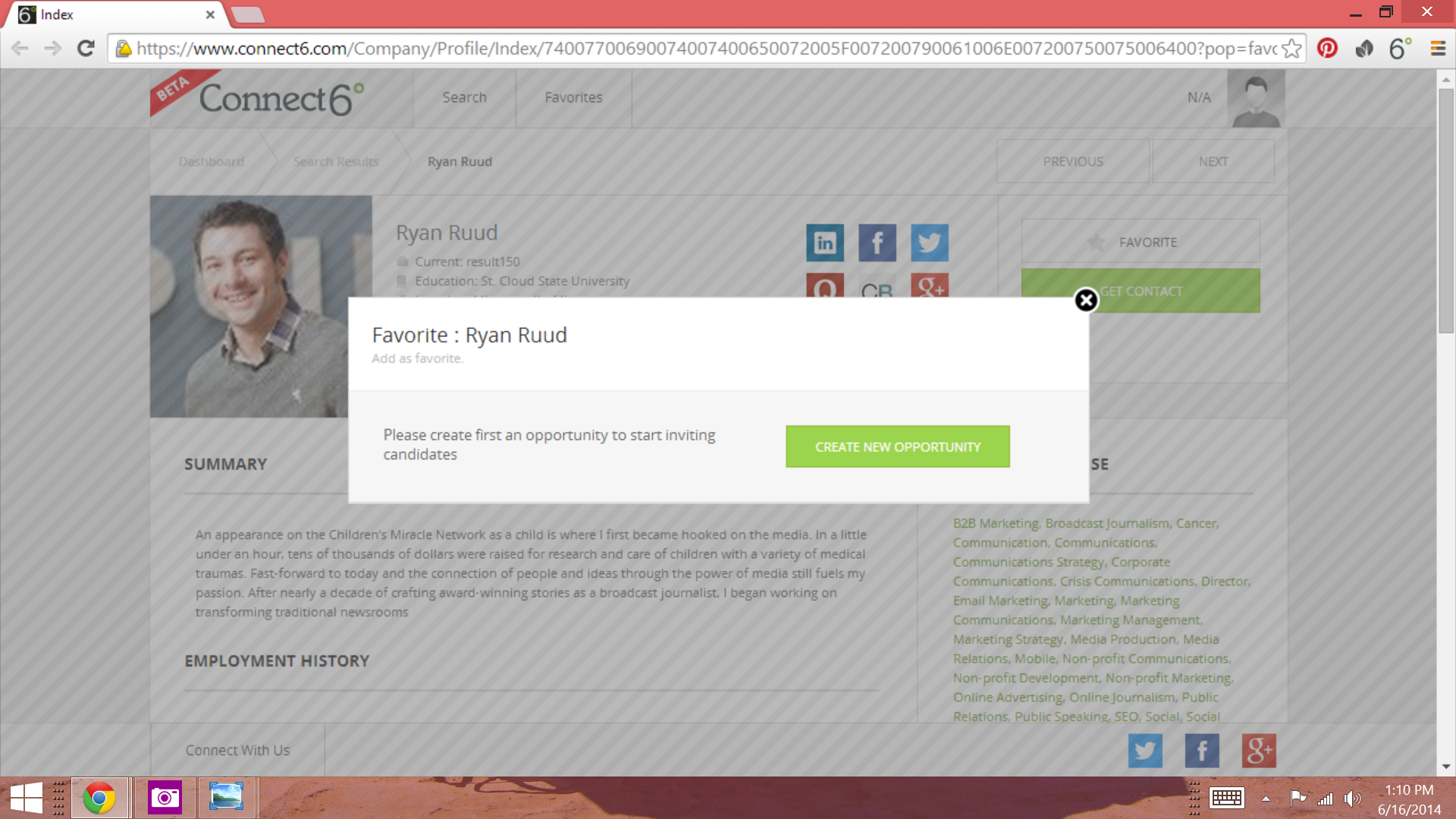 It dawned on me in that moment that I could utilize Connect6 as a task manager. I had been promising Ryan a follow-up lunch in the recent weeks and this was going to keep me in line. I could add Ryan and a few other friends to a list and start setting up those lunches, coffees or meetings, while they came up on my feeds and I was reminded. "By uploading your connections to Connect6, we can see your relationship between Ryan and yourself." - Dean Nicolls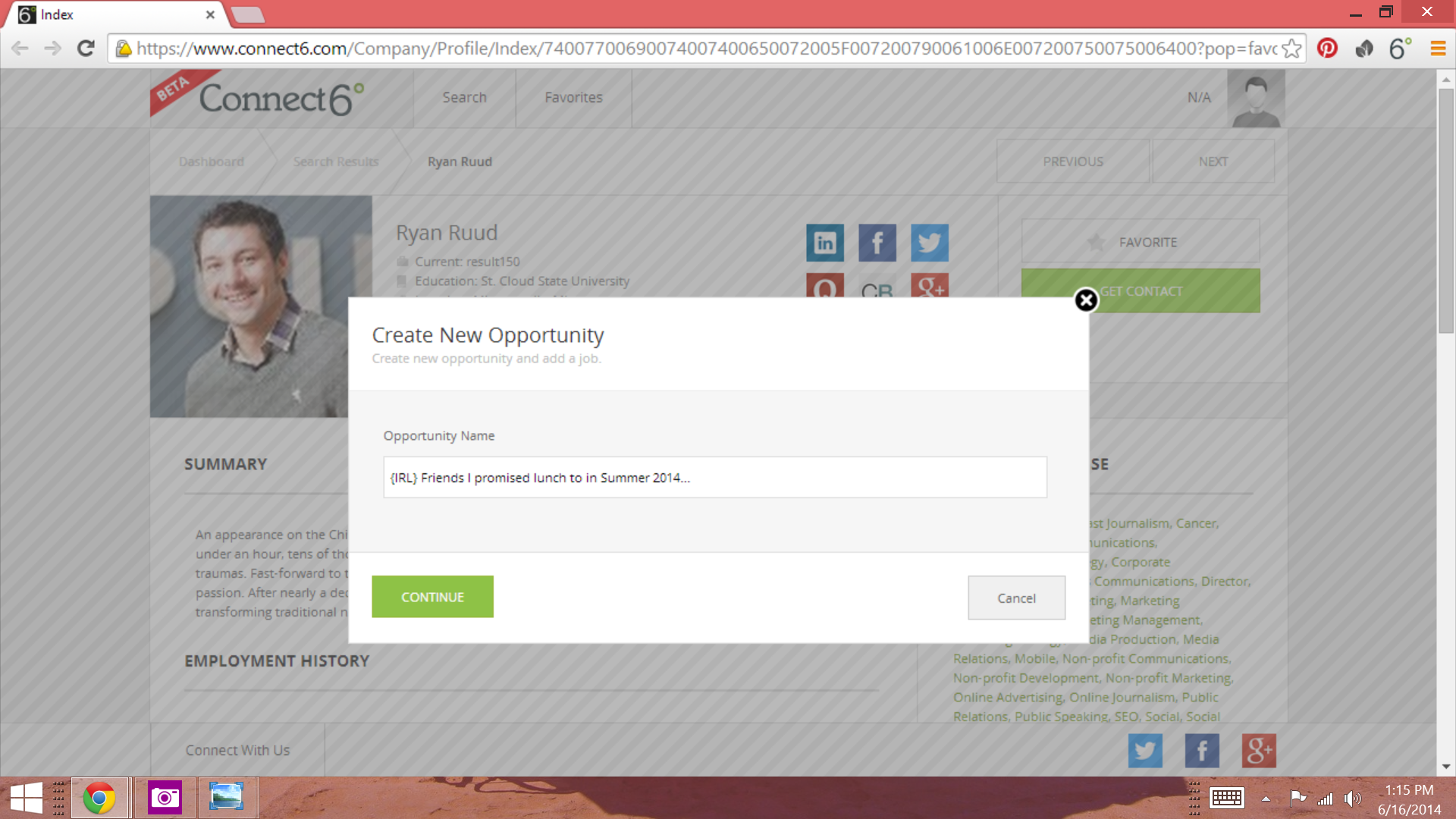 After adding Ryan to the list, it brought me to Ryan's Connect6 page featuring his job history. It also alerted me that it would let Ryan know that I was submitting a "proposal" to connect. (Thank goodness I had chosen a great name!) If the lists aren't private and the individual sees what list they are being added to, it might be a huge disservice to recruiters or sales managers. In addition, when setting up my Connect6 profile, (adding my user photo, email and phone number,) it dawned on me that they were utilizing and selling their database to others and my details, (phone and email) were publicly available on my social networks and website. In connecting my LinkedIn and Facebook profile, it was clear I was giving my information in exchange for using their tool- that's pretty standard.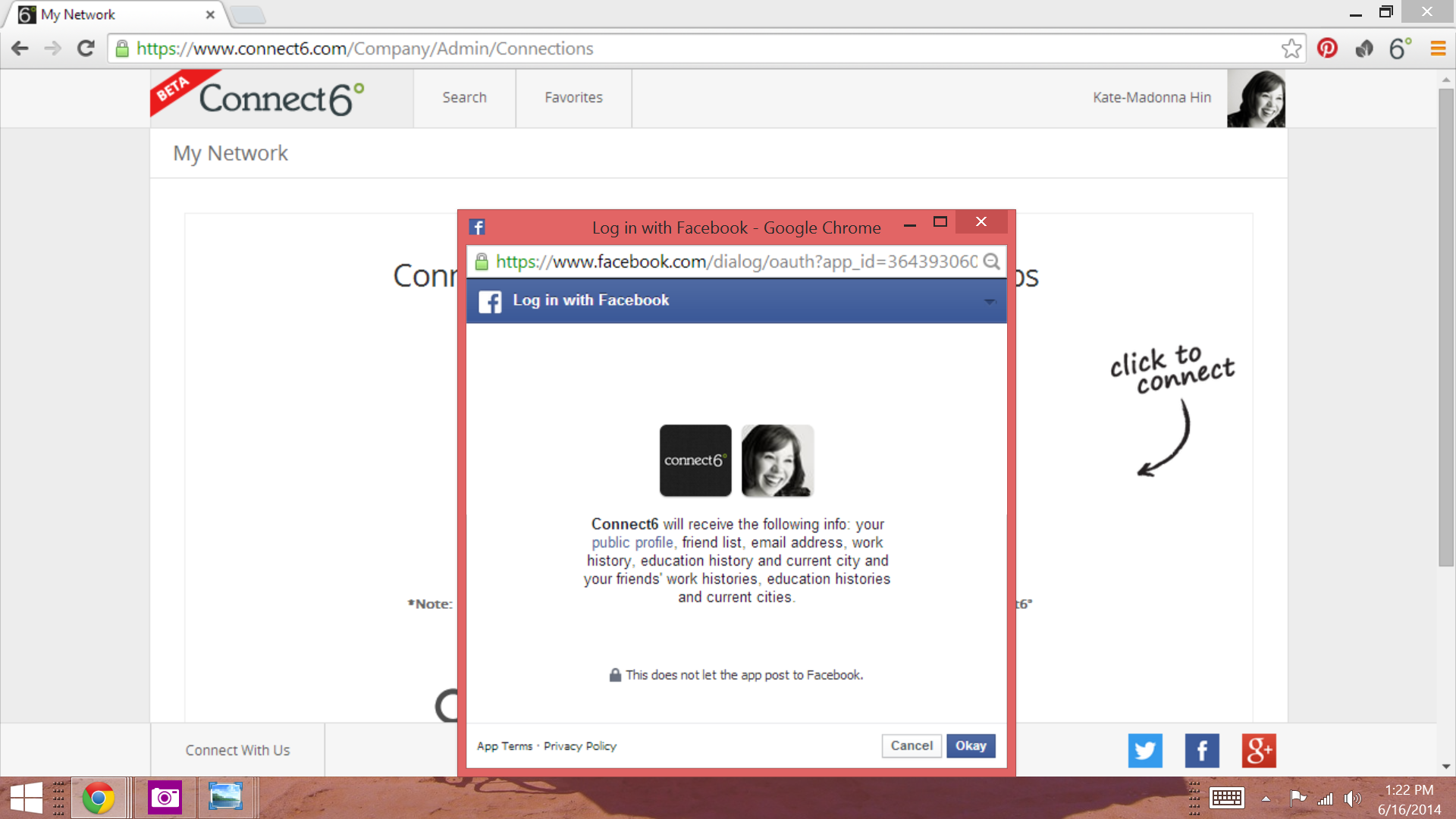 I'm not of the belief that our public data should be sold for private profit and I believe in transparency with data and privacy. It was clear I needed to look a bit into their TOS: Terms and Conditions as well as their Privacy Policy. I went over to their main site: https://www.connect6.com and while logged in, I couldn't find ANY TOS or Privacy Policy.  I scrolled, (and scrolled and scrolled) past the multitude of users to the bottom and no company info appeared. So, I logged out to try and find what I was looking for. At the bottom of their site, I found the TOS and Privacy Policy.
.:Know What You're Agreeing To:.
The TOS had the usual jargon. We won't hold them liable, we won't resell their info, we won't do illegal activities with the website or info. Their, "Third Party" provisions are where you need to peek. I think it's important to remember we are not just giving away our personal info, but potentially other contacts' info as well.
Co-founder Dean was careful to state in my call with him that they didn't, "want to box themselves in. For a free service, we try to be very forthright. We even tell them how to opt-out of our service." 
9.  Information from Third Parties
Connect6° may receive information about You from third parties. For example, if you access the Connect6° Services through a third-party connection or login, for example, through Facebook Connect, by "following," "liking," adding the Connect6° application, linking your account to the Connect6°, etc., that third party may pass certain information about Your use of its service to Connect6°. This information could include, but is not limited to, the user ID associated with Your account (for example, your Facebook UID), an access token necessary to access that service, any information that You have permitted the third party to share with us including contacts or "Friends," and any information You have made public in connection with that service. If You allow us access to Your friends list, Your friends' user IDs, and Your connection to those friends, may be used and stored to make Your experience more social, and to allow You to invite Your friends to use our Service as well as provide you with updates if and when Your friends join Connect6°. Friends list information and shared contacts may also be used to improve Connect6°'s service. You should always review, and if necessary, adjust Your privacy settings on third-party websites and services before linking or connecting them to the Services.
The Privacy Policy was standard. They stated what information they collected. (I assumed the card details and billing information was strictly for their services as no first-party would allow that info to be released.)
.:Opting-Out of Targeted Advertising:.
Connect 6 is a data-grab, nothing more- nothing less. For the ease of use in finding all social profiles and career history in one view, we are giving the same data we've already given Facebook, LinkedIn, Twitter and others. I actually appreciated the clear and concise statements on how they use user data on their website: This shouldn't be refreshing. Compared to other sites, their policies are easy to understand and they even give opt-out information.
To opt-out of their advertising: Go here: http://www.aboutads.info/choices/. This will allow you to opt-out of their website and others that track your info. I opted-out from all. With my Chrome, DoNotTrackMe extension, I'd like to pretend the web will begin showing me weird and non-targeted ads. (A girl can dream.)

.:Parting Thoughts:.
Could Connect6 hurt already established social networks like LinkedIn when it comes to candidate sourcing and lead generation? Absolutely. LinkedIn hasn't evolved in the past year to the extent that it should have. It's become a platform for takers and spammers, and rarely is helpful in actual relationship-building past the first point-of-contact. While I am always searching for efficient ways to keep track of connections, I am trying to be more cognizant about the data I'm giving away in the process. It's a great tool. It'll save me a step. AND, it just may be the push LinkedIn and other networks need to evolve and provide new services.