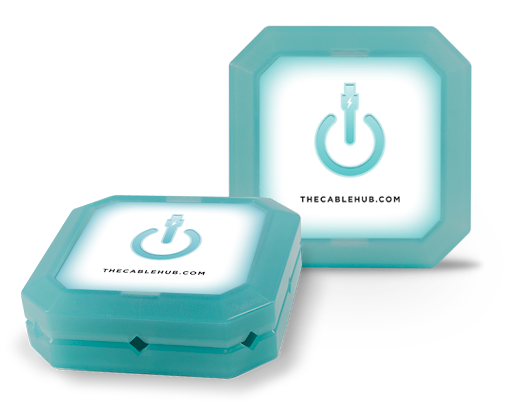 We. Have. Cables. Everywhere. 
In fact, with multiple tablets, smart phones, (and not to mention the products I test,) at any time, I have about 6-8 electronics plugged in around my desk area. Enter, CableHub. I often try to stop by the smaller booths at CES and this year, this company caught my attention. We desperately need more options for cord and charger organization that are smart and affordable. The CableHub has been a lifesaver for home organization but in using the tool, I realized there's a few other uses that might be overlooked.
The Perfect Conference Solution
While at conferences or expos, I'm often struggling with cords for my laptop, phone and tablet to get everything to charge. I hate not feeling, "put together" and am often searching for one cord versus another. With CableHub, I simply input all my cords into the adapter, and put the adapter in my bag. As a bonus, I can use CableHub's DesignStudio to print my logo and affix to the top of the hub.
Totally Giftable
At $14.95, it's the PERFECT gift for clients and I can give them the Hub with their logo already affixed.
Product Details:
Organizes up to 7 cables, cords or wires at once while keeping them stabilized, protected and tangle-free!
Reduces exposed cords for safety and convenience – Simply WRAP up to 10 feet of cables around the weighted disc and SNAP it shut.
Available in 13 colors and 2 shapes – Choose from a round or square design to accent your environment.
Use the free online 

DesignStudio

 to customize the top insert with your photo, favorite logo or artwork..
Place on any flat surface with our non-skid pad or mount to your wall with Velcro or 3M Tape adhesive (not supplied). Sealed packaging includes instructions and how-to for our 

DesignStudio

.
*I was given a CableHub during CES 2014. It is against GMG terms to take monetary compensation for reviews. I willingly rave about things I love.