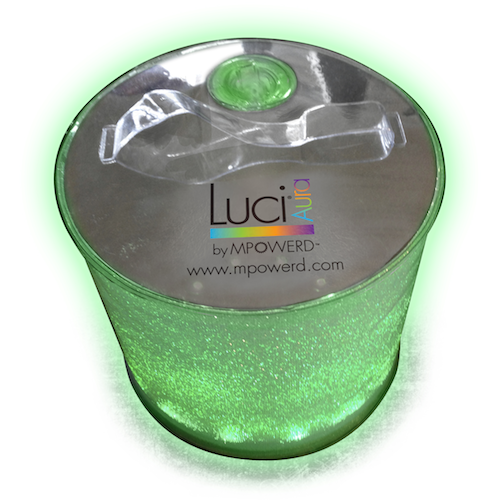 We're the type of family that doesn't find our favorites easily. When we do however, you know it's going to be a part of our home for a long, long, time. My Luci Aura review should have been done a week ago, but I haven't been able to pry the lantern out of either of my children's hands. My 18 month old carries it around and is fascinated by the lights. My 8 year old turns the overhead lights off and takes it with her to dark places and has adventures. As a mom, I love the Luci Aura because it's versatility and the fact that safety, has become FUN.
The Luci Aura is a different kind of light. Filled with delicate sparkles and a color-changing scheme, Luci lights up the darkness with a few fantastic features:
.: Deflates and packs flat to fit in any bag
.: Solar-powered and long-lasting. I put our Luci up against the kitchen window with the solar panel facing out for 3-4 hours in the afternoon winter sun. A week later with occasional to heavy use we STILL have light. No batteries, no electricity, just great design.
.: Luci Aura is manufactured by MPOWERD, a company that truly believes in giving back. MPOWERD actually gives the device to those that need her most, more than 1.5 billion people in the developing world. I think that's an incredible testament to a company and their values.
.: Luci was started from an IndieGoGo campaign to help light up the world with renewable energy.
Here's the many ways we use our Luci Aura:
Sleep-Aid: Our daughter, Ava, is terrified of fires and the dark, so much so that if the alarm beeps, she's in tears and asking if we'll be okay. I let her sleep with the Luci Aura and she tucked it in with her all night, using it to get up for the middle-of-the-night bathroom break and to help her fall asleep.
Toy: My 18-month old son loves to carry the Luci Aura around by the strap and sets it down on the ground to watch the color changes. My daughter uses it under her forts for fun colored lighting and to help her read.
Safety-Device: During warmer months, Minnesota is known for tornado warnings. We've already been practicing during the winter. During some of our "test runs" I asked my daughter what we should grab. Ava stated, "Let's grab Luci!" With sparkles and light, this solar lantern easily takes away some of the fears of weather-related emergencies and creates a warmth that calms Ava's greatest fears.
Family Nights Out: Our Luci is going to be around for a while. We're already planning on bringing her to outdoor festivals and fireworks. Easy for either one of our children to carry, Luci is going to help us walk to the car after late-night picnics and playdates.
Absolutely Giftworthy: In honor of this review and our love of Luci, we chose to give a Luci to someone in need. Our Luci went to, A New Course, which helps with human trafficking and specifically tackles the financial gap and education with women overseas. We hope our order, #1079 helps a woman or family find light in the dark, all the way from Minnesota.
Luci Aura Product Specifications
Charge time of 8 hours yields a minimum of 6-12 hours of light
Luci charges under direct sunlight and even under incandescent light
Maintains a single charge for 3 months
Ten white Light Emitting Diodes (LED's) with 4000 mcd light source
Two brightness levels to conserve battery life
Flashing-light setting for emergency situations
Delivers up to 80 lumens providing 15 sq ft of light
The rechargeable lithium polymer battery pack can be charged while collapsed or expanded

300 – 500 cycle life

Over charge/discharge protection

Over current and short circuit protection

Water Proof PVC enclosure
Minimum lifespan of 2 years
*GirlmeetsGadget was given a Luci Aura for review purposes. We chose to purchase a Luci out of our own funds to pass on to a family in need.  It's not often I'm able to give back with reviews and it was truly an honor to gift Luci to another family who could use and love the lantern as much as we have. You can also gift a Luci Aura Lantern by going to: https://www.mpowerd.com/give