Call it bold curiosity, or just plain stupidity, but after seeing the buzz about Acxiom's
announcement on "transparency,"
I decided to log-in and see what information was stored about me. Upon logging in, I realized my information was not correct; not even close. According to Acxiom, I was a 30 year old homemaker with no children who was interested in parenting, but my birthday was wrong and when I looked into my "financial transactions," they only had one, for $121. I'm an avid online shopper and I can't imagine only one transaction posted, especially for that weird amount. They cited the purchase as, "women's casual clothing." To even login, I had to give Acxiom the last 4 of my social security number, date of birth, full name and address.  The announcement was interesting news, because they currently maintain on their regular site,  to attain the information they had about me,

I would have had to pay $5.00

. I'm sending in a check, we'll see what happens.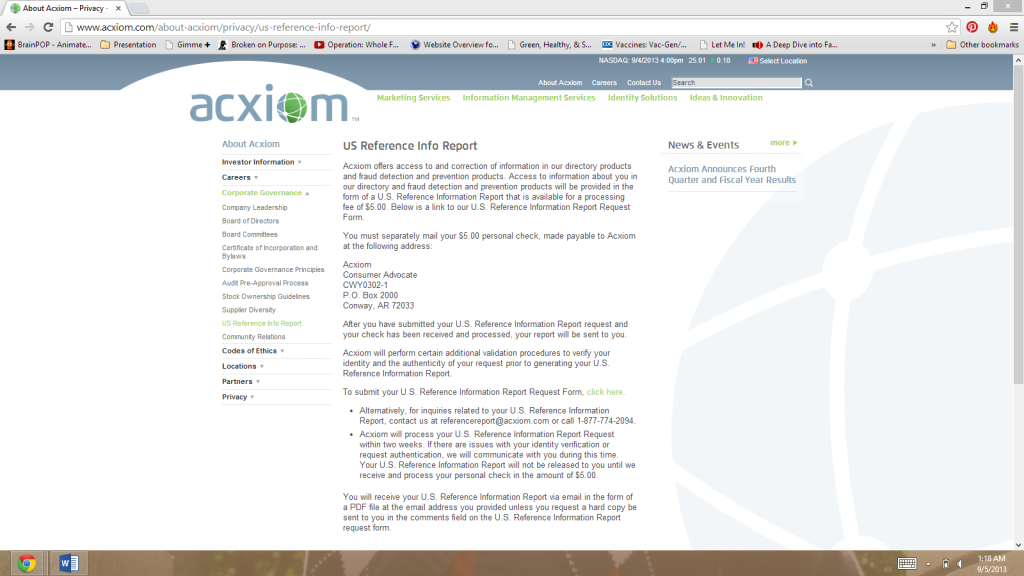 Who are these people? Acxiom is a well-known data mining company that collects information about
online activities
and offline purchases and spending trends.

They're kind of a big deal.

Today, they announced that they were unveiling a new website,

AboutTheData.com

, that allows consumers to see what information they collect about an individual, once the individual has verified their identify and logged into the portal. 
Whether a valiant effort, (or a complete game of mirrors,) is up to each consumer. While I love any attempt at showcasing what happens behind the scenes in the race for consumer data, this seems like a strange effort. My own file clearly was missing data. New York Times

reporter, Natasha Singer

, thinks Acxiom's attempt at transparency is not only misguided, but perhaps fraudulent. Singer writes,
Other media outlets tend to agree. On August 15th, The Washington Post published an Op-Ed by author, Julie Brill, (a member of the FTC.) In provocative words, Brill demands transparency from the NSA and data miners, alike. Brill

writes

, "This may seem benign, but increasingly our data fuel more than just what ads we are served. They may also determine what offers we receive, what rates we pay, even what jobs we get." Could that be true? Could today's advertising and data-mining turn into tomorrow's job offers? Julie Brill seems to think that data is a very slippery slope. For a much more transparent demo of how Acxiom works, check out one of their

sales tools

. As an added fun fact, did you know Acxiom uses information from certain, "Fraud Monitoring Services?" It says so,

right here in their privacy policy

. If someone steals your identify and you sign up for a fraud monitoring service, you could be actually having your privacy sold to Acxiom to sell again to marketing companies. It's hardly believable, isn't it?
One thing is for sure. Signing in and opting-out are no small task. According to

The Consumerist

, the actual link to opt-out, is somewhat hidden. They write, "You can also opt out of the entire thing — no data collection or storing — but doing so will result in Acxiom targeting you with ads you might not even want, it explains. But clicking 

that opt-out on the front page

 will only take you to the online, cookie-based opt-out. The full opt-out for mail and email is hidden here." That's right, Acxiom only allows you to opt-out on cookies, within the program's opt-out selections. Surely, that can't be legal, right? For the FULL opt-out link to Acxiom's targeting and data-mining, go here and follow these steps:

Second

, you'll play a fun game of, "Did you really mean to opt-out?" On the confirmation page, it instructs you that you'll have to actually click on an email link to REALLY unsubscribe. Because, you weren't serious the first time. And they want to be really sure. Here comes a great game of, "can you remember the symbols from 8th grade geometry?" Luckily, I did. There are exactly 2 cones, 2 keys and a weird star thing, and a ball and an arrow? Is that an arrow?
Third

, celebrate your success with remembering 8th grade geometry by opening a beer and checking your email. Acxiom promises to send you an link that automatically opts you out. Wait… more links?

Fourth

, I click the email and then it's going to go away, right? Here's the email…
Fifth

, your hopes will be dashed when you realize, there's more geometry. And the symbols are bizarre. Is this a test? Would most people just give up? Not you, opt-out warrior. You'll hang on.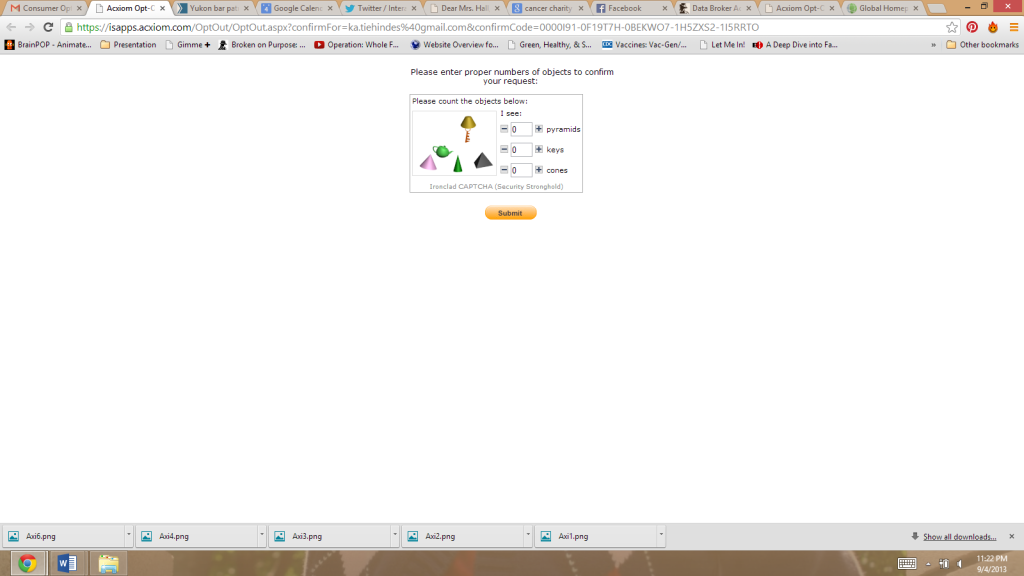 Sixth

, it's almost surreal, you're finally there. A reference number has never looked so beautiful.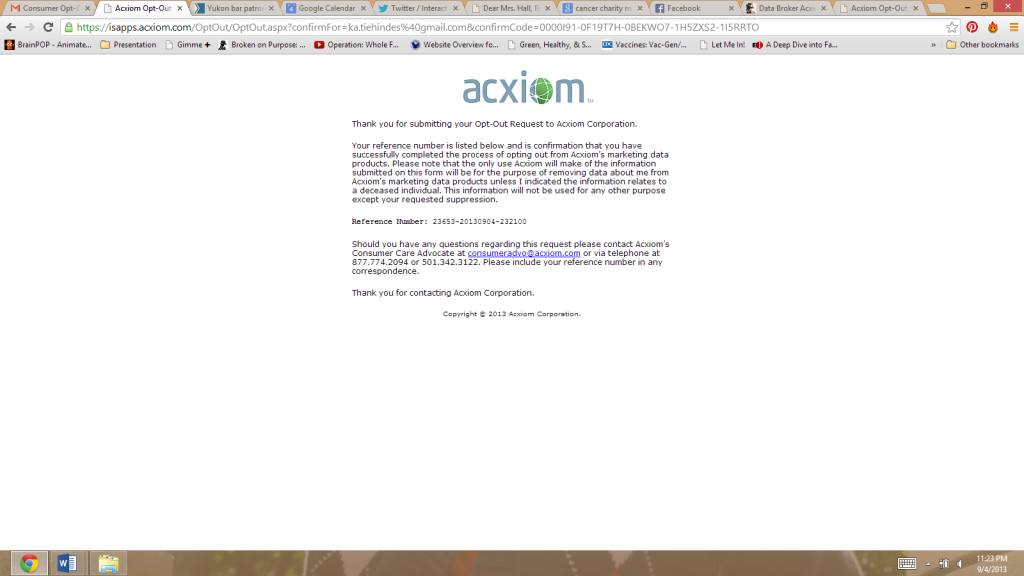 On this page, Acxiom suggests you you have "options" for opting-out. The 5-step process you went through opted you out of ALL their advertising, but NOT tracking. I'd recommend utilizing DoNotTrackMe, a great tool to help you retain privacy while surfing the web.

I wrote about this Google Chrome extension back in March

. Remember, your online privacy is up to you. Here's a

handy post on removing yourself

from all background-check related websites. As a hiring manager, I have legal ways of finding the basics on what I need to know about you. Remember, you are your best advocate. Happy surfing!