It might be safe to say, Twitter has expanded into traditional advertising and it's a very good move. Twitter has opened up it's t.v. ad targeting to expand to all customers after the private beta exceeded the expectations of some. Ever so strategically, Twitter is marrying traditional media with new media, to capture more impressions for key brands. According to Quartz, "The company is also enhancing its existing analytical capabilities so advertisers using the program can better understand what people on Twitter are saying about their ads."
In plain speak: It's one of the smartest moves Twitter has done, (especially since Twitter cards didn't take off as they hoped.) Why now? Twitter's IPO is going to debut in the next 18 months and in effort to prove to the market it's lasting capacities, Twitter has decided to prove many faces of success. According to Dick Costolo, money is an offset of success and Twitter's main focus is that of user experience. While it may surprise some, the strategy of getting users to trust you first, always wins out in the end.
 "We think of revenue like oxygen. Essential to life but not the first thing you think about in the morning,"  - Dick Costolo, CEO – Twitter 
How do the ads work?
Twitter's new advertisements work a little bit like retargeting and is all about multi-channel marketing.  Don't know what retargeting is? Think of all the websites you visit every day, and the items you look at. Retargeting shows you those ads in different places, such as banners, Facebook sidebars and more. According to
CMO.com
, "Retargeting returns higher results than traditional online advertising."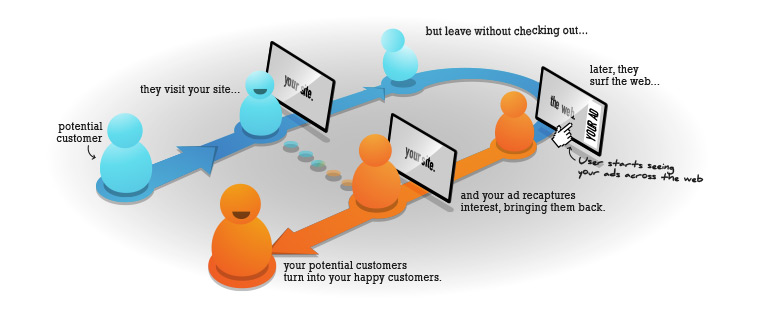 Why does retargeting work? It's a timely reminder to help keep a brand, or item on your mind. Twitter advertisements function much the same way. TechCrunch explains it perfectly:
In 2009, I gave a presentation about location-based advertising. I spoke about how our location was going to determine the relevance of the advertisements we viewed. Almost 5 years ago, it was hard to believe, but we knew it was coming. Today, we're seeing this happen with such a smooth process, it only makes sense. Twitter has made a strategic move as Facebook has partnered up with Trendrr, a targeted advertising company.  Trendrr and Facebook's statistics might surprise you. While I normally discount Facebook because of the mass exodus of its youngest population, (teens,) Trendrr has produced quality results for Facebook clients.
 Twitter claimed that with the newest service coming out of beta, brands were seeing dramatic increases in customer conversion metrics.
Follow more of Twitter's latest news on their

advertising blog

.