The Unthinkable Happens…
Asha's face stared at me through her mother's Facebook post. "I regret to say that Asha is missing…" I had a mutual friend with Asha's mother and seeing the post made my heart sink. Just a few days earlier, my 7 year old was angry over not getting someone she wanted and stated, "I'm going to run away!" Any parent who's heard those words, know the immediate instinct to protect your child in anyway you can. We never think it'll happen to our own children and the news is devastating when it happens to anyone we know.
I didn't know how to NOT spring into action when Asha's mom, Natalea started chatting with me. I knew she needed help and I had a few extra hours on Monday evening. 
I asked Natalea how I could help and between our words, I did some digging. There was an open case, according to records at the SPPD, (the clerk told me on the phone.) The case was assigned to an Officer Lee. At this time, "they were not looking." This meant one of two things, (which Natalea confirmed,) herlittle girl ran away, or they were investigating something not released to the public yet. Another 24 hours past. No news picked up on the story, and when I asked a few friends at the local papers and new stations, one stated, "We never cover runaways." The other said, "There's not a lot to go on." I saw the pain in Natalea's post and know I had to do more. What could I find out? 
Human Trafficking:  A tie-in to runaways?
One thing baffled me, I found out that local news stations don't cover runaway cases. And, unless a vehicle is suspected to be involved or another party, (including foul play,) an Amber Alert isn't issued. I spoke to a friend at the Minneapolis Police Department. We often speak about cases in the news, or highlights we've heard. He said, "At any point, there are 200+ runaways or open runaway cases in the Twin Cities, alone." I asked him to repeat the number, because I couldn't believe it was so high. There were 200 Asha's. TWO. HUNDRED. It could be Ava someday and although I didn't know Natalea's pain,  I knew I had to find as much as I could, even if it meant getting into the dark and scary.
Minnesota is

3rd in the nation to sex trafficking

. I remember seeing this alarming statistic while photographing a recent

Women Wisdom and Wine

event. A recent non-profit,
MNGirlsNotForSale

, cited the following:
According to a

Jan. 2013 article from MPR

, sex trafficking in Minnesota is directly tied to teen runaways in the state, one source in the story explaining that often teen girls are duped with stories to get them to go with someone they may not know. While that, in itself, isn't news, the fact that hundreds of cases of runaways are open in the Minneapolis, St. Paul region at anytime, is certainly something to take seriously. The more people I shared the above statistic with, shared my confusion and complexity as to why runaways were not taken more seriously.
An Overwhelming Number: An underserved population
My initial frustration and anger over Asha not receiving air time came to a humbled and quieter half when I realized the sheer numbers that police were dealing with. Could the news give coverage to each individual's family? Absolutely not, but they certainly could point to a resource to find and post more information. In my digging, I found an

Interactive Water Map

. Even, a

Department of Transportation Map

. But, no MN missing person map. The closest I came, was the

MN Missing and Unidentified Persons Clearinghouse

 but, that website didn't give me a list of recent runaways. In fact, nothing in my search gave me an extended list of MN runaways. That seemed like a huge missed opportunity and one that as a parent, I found scary as hell.
Runaway cases are treated different than missing person's cases to some police departments, (especially if the child has a known history of hanging out with other suspected runaways.) However, some information is collected the same, including each case being put into a national database, the NCIC, (National Crime Information Center.) How police officers or detectives handle runaway cases versus missing persons, is then up to each precinct, or city. Only children who are deemed in serious risk are labeled as a "critical" case. Did you know Amber Alerts had specific rules? Often runaways don't fit in the necessary recommendations. According to

AmberAlert.gov

, guidelines include:
The abduction must be confirmed prior to issuing an alert

A risk of serious injury or death must be present

Authorities must have sufficient descriptive information

The child must be 17 and younger

There must be entry into the NCIC system
The problem with these guidelines is that they are subjective and sometimes not adhered to. However, it's a system in place that's making a difference where there wasn't a system before. Each step counts, right?
Crisis Management For Parents
The most important thing all parents need to remember is that there is  no 24-hour waiting period for a child under 18. The moment your child goes missing, call 911. A new organization,

FindYourMissingChild.org

emerged last year. It's creator, Tony Loftis started the organization after realizing there was a gap in between missing person tools and social media. In fact,

FindYourMissingChild

is a social media toolkit for parents, one that doesn't discriminate from missing child to runaway, but instead serves all. I bookmarked their site for my future, hoping that I'd never have to use it. Their site also linked to a handy checklist of things to think about and immediately take action on if your child is missing. The checklist can be found

here

 and is available from

MissingKids.com

.
When I took to Facebook and Twitter, I was not surprised by the retweets, or comments. Most of us felt the press were neglecting runaway teens in their media coverage. We all felt that Asha could be our own daughter, sister, or a family friend.  In almost a perfect and blessed turn of events, I just got a happy note from Natalea. (Happy is an understatement.) Asha is on her way home safe, after someone recognizing her.  (Note: I photoshopped out faces + names as some young adults commented on the post and I didn't have their permission.) Natalea wanted me to share her news and help other parents understand what happened.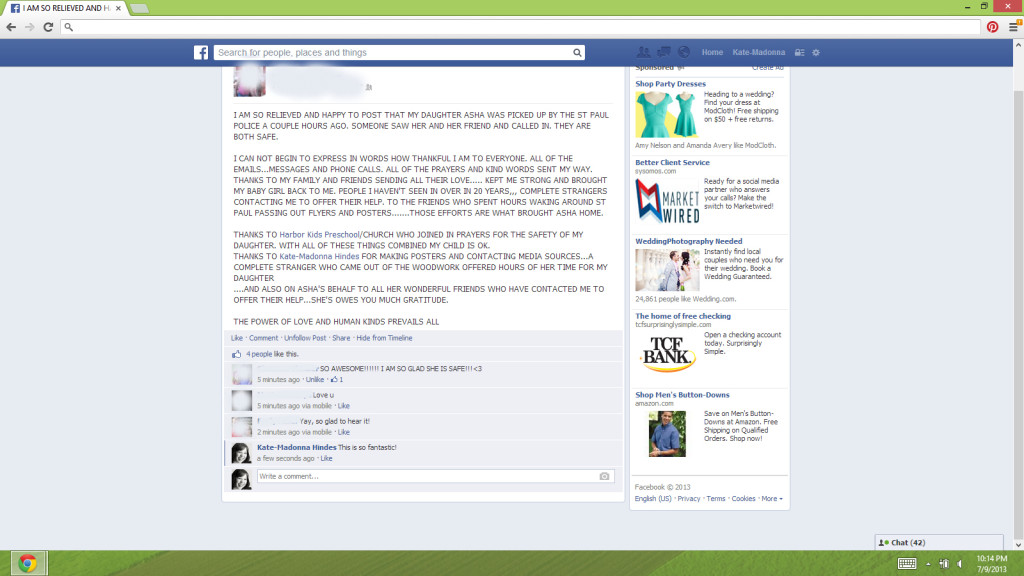 Resources