I read a truly interesting post tonight, "

When I have made altars out of sand in want of stone

." Preston Yancey, the author caught my attention all the way to the bottom.  Perhaps it was his passion and demonstration of wanting to life a faith-filled life. I respect others' writing so much, it takes a lot out of someone to put emotion into words. I often don't read Christian blogs because I feel they are littered with posts of who can have the biggest and most grandiose apologies. His caught my eye because he was studying for a PhD in Divinity. Maybe he'd be a new source of great content. I've been itching to read more.
Many know I went to school for Theology and sought a major in Theology and Youth Ministry. Though my religious views have changed, I've never lost the want to learn everything about religion that I could. This was no exception.
I was lost in Yancey's words.  I read and read over again, trying to see why I couldn't put his words together in my mind. I couldn't get past one line  in the piece: 
From growing up Catholic, I learned of a God who ate meals with prostitutes and beggars and who put others before himself. I was thoughtful and wanted to think it over, even pulling out copy of "Mere Christianity" from my nightstand table to find a deeper meaning in refocusing. I asked friends who I trusted, "Is this normal? Do most Christians want to stay only in the Light?" My good friend
Diane Kulseth
, chatted with me for over a half hour about the Pope, Christianity, Catholicism and lifted me back up with her completely unbiased and gentle way of explaining everything. (Diane has far too much patience with me. I was her former Editor at the Catholic Spirit, and now I think of her as my  favorite source of Divine wisdom.) My amazing and intelligent friend
Erik Hare
, had this to say:
 "We live in a culture of selfishness, and so many "Christians" have the same problem as the rest of the world. Salvation is all about them – their beliefs, their relationship with Jesus, etc. The selfish culture teaches these people nothing about their obligations, and their faith is -has none." – Erik Hare
I genuinely wanted to know why some sects of Christian society pulled themselves into a comfort zone and only allowed was that deemed as, "good" inside. I saw this often in my studies and immediately remarked that it was strange he wanted only GOOD touching him. It seemed elitist, or some other word I couldn't find, but it seemed wrong.
Still, I wanted to learn. Lately, I've wanted to learn more about everything. When I couldn't understand Yancey's words, I know I needed to hear from him. So, I commented on his blog and tweeted. In my blog comment I mentioned,
I want to GET it. Had I been doing it wrong? Was there something I wasn't understanding? Could there be a false idol of Social Justice? . I was that Christian once. I only had Catholic friends. I only listened to "approved music." I didn't like me then, but was that how it needed to be? Instead of a warm response, I was baffled at what came next.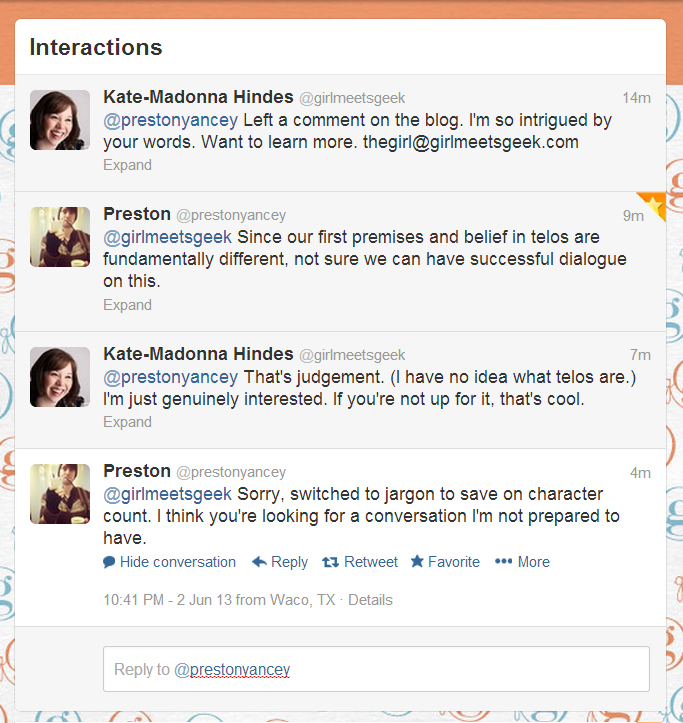 I, apparently was out of his comfort zone and Telos. (I think Telos means, mindset, or philosophy. I can't tell. He wouldn't say.) Even, after having never met me, or heard my story, he assumed I didn't "get" him.   So, I figured out my yearly battle of why I don't believe in those that don't want to venture into the dark, scary and not-well-lit, had come to a close. I got angry at Christianity again, (but only after crying hormonally to Diane that I was rejected by a good Christian, and what that possibly meant for my soul.)  Religion can be a powerful tool, and a powerful weapon. It's hardly ever used to build emotional bridges. I think of religion or my faith a bit like the first sip of my morning coffee. I don't feel good without it and it gives me a jolt of thought when my mind is bored and looking to learn about the new and different.
I think the dark is amazing. I think that when we paint a brush and believe only in "good" people, (labeling them while we paint,) we miss some of the most revolutionary people, ideas, concepts and notions that we'll ever come across. There's life in the dark, too, so much of it that it might blind you if you don't take your time to see what's in there. We all can't be in the sunshine all of the time, it would be a tragedy to miss a powerful discussion, or a new friend based on pure judgement, maybe Preston would agree in hindsight.
Pope Francis said something that I actually agreed with the other day. He spoke,
For a woman who never talks about religion, this is a LOT of Theology and thought for one post. But, those words by Pope Francis have  me thinking. We are dodecahedrons. I have many sides, not just one or two or even three. I still believe people are GOOD at their core, some just have ulterior motives. A huge thanks to Erik, Diane and even Preston, who helped me think through another concept tonight and keep me from bored while flat on my back in recovery. I hope I never stop learning or being willing to ask difficult questions.