There's a well-kept secret in the advertising world: Our data is for sale.
I'm a privacy fiend, n
ot that I have anything to hide with my love of 80′s music videos and an addiction to the Consumerist. But, after speaking on air with Fox9 and writing article after article about privacy, I was inspired to take even greater measures with my online security.  
.: Selling Out For 5% :.
I know that with each website I visit, I leave a pattern for online retailers and robots to decode. However, this also plays out in very real daily activities. Ever use your Target card? My Target credit card gives me coupons based on what it thinks I might be interested in, but i
t doesn't just stop there.
MSNMoney
questioned in 2012 if the 5% discount at the retailer was worth the privacy consumers gave away. 
The

New York Times

covered store credit cards and their tracking secrets by saying,
Don't believe me? I'd like to show you that those of us who like to diet, have allergies and use cosmetics are

being sold in bulk

. Advertising and data mining has always been around, but the transperancy around the data practices are what has most concerned.

ProPublica

recently wrote, 
.: One Tool To Rule Them All :.
This is why, o
ver the past 2 years, I became
 a passionate advocate for anti-tracking online tools like
Ghostery
and
DoNotTrackMe
. I appreciate advertising, but I don't appreciate not being able to, "opt-out." Just recently, I stumbled upon the Google Chrome extension by PrivacyChoice, Inc.,
Privacy Fix
almost as an accident and knew I had to give it a try. I run Chrome specifically for the ability to mask my online presence and have greater control of my security and privacy while online. 
 I even appreciate the non-buzz worded paragraph that PrivacyChoice put together about their tool. After running a few checks on websites, I wasn't astounded by what I found. 
Twitter passes with flying colors. If you look below, Twitter was given a green light for not tracking my information to sell.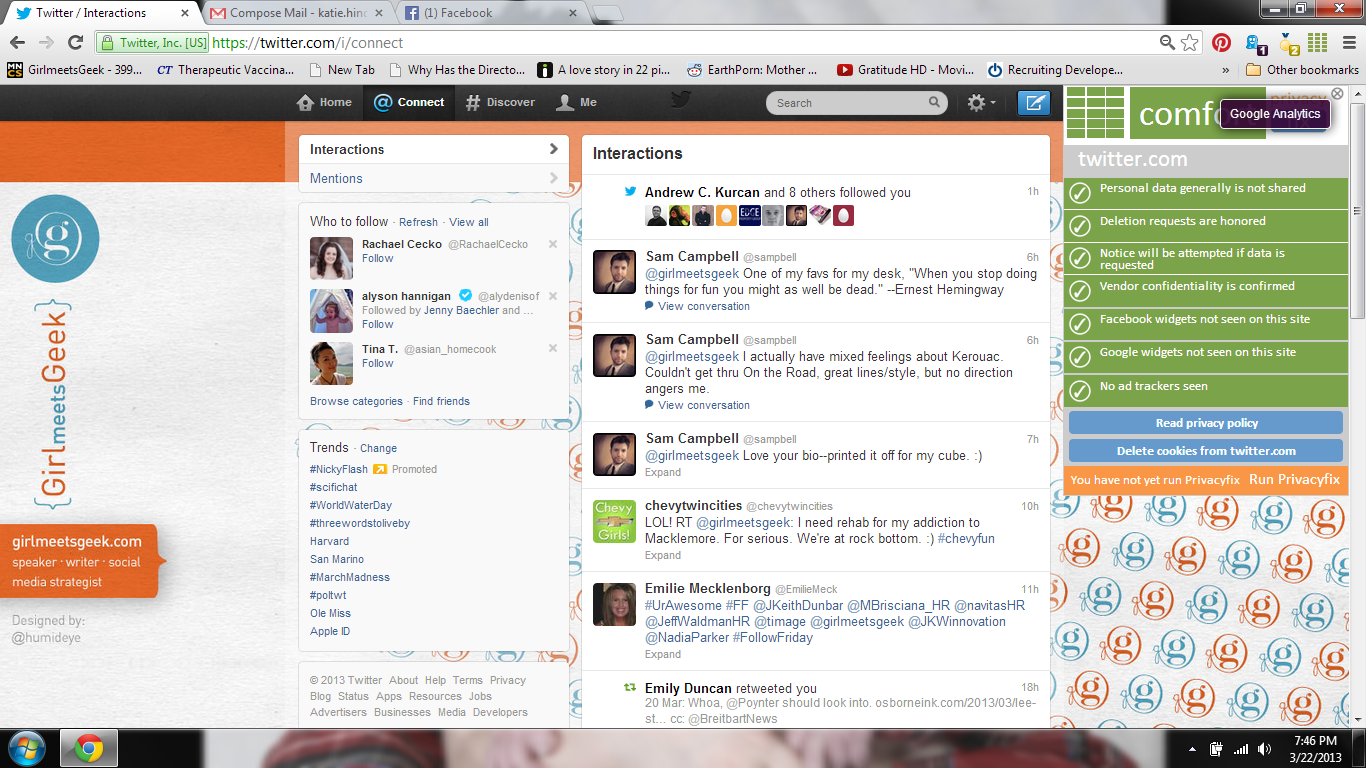 In a story we all knew the ending to, Facebook falls flat on its face. Not only did they have multiple court cases cited, but they also were given a failing grade.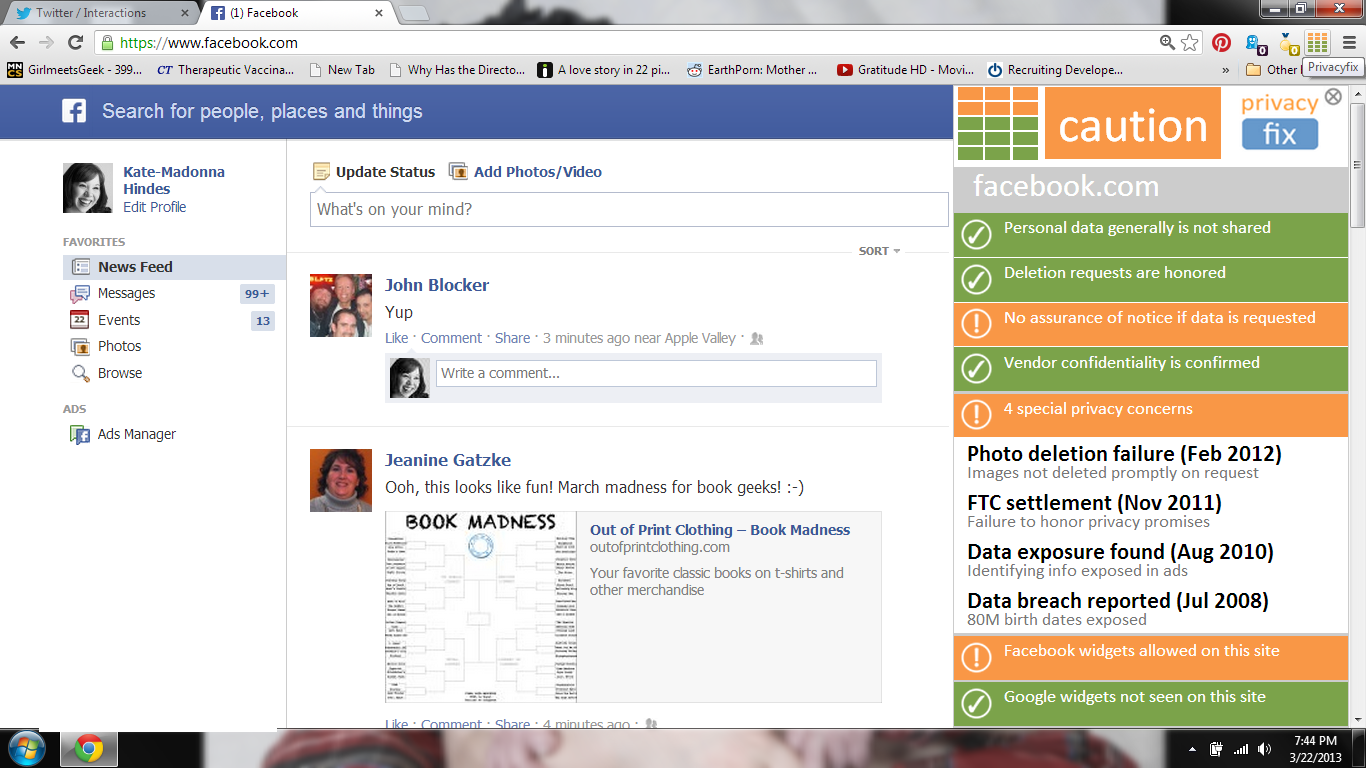 I clicked on the "Privacy Fix" tool after it was open and it immediately showed me what I could do to better secure my profile and protect myself. It even compares my risk to others for Facebook's, "Graph Search" and tells me what I'm worth. Look at that, I'm $1.63. Amazing!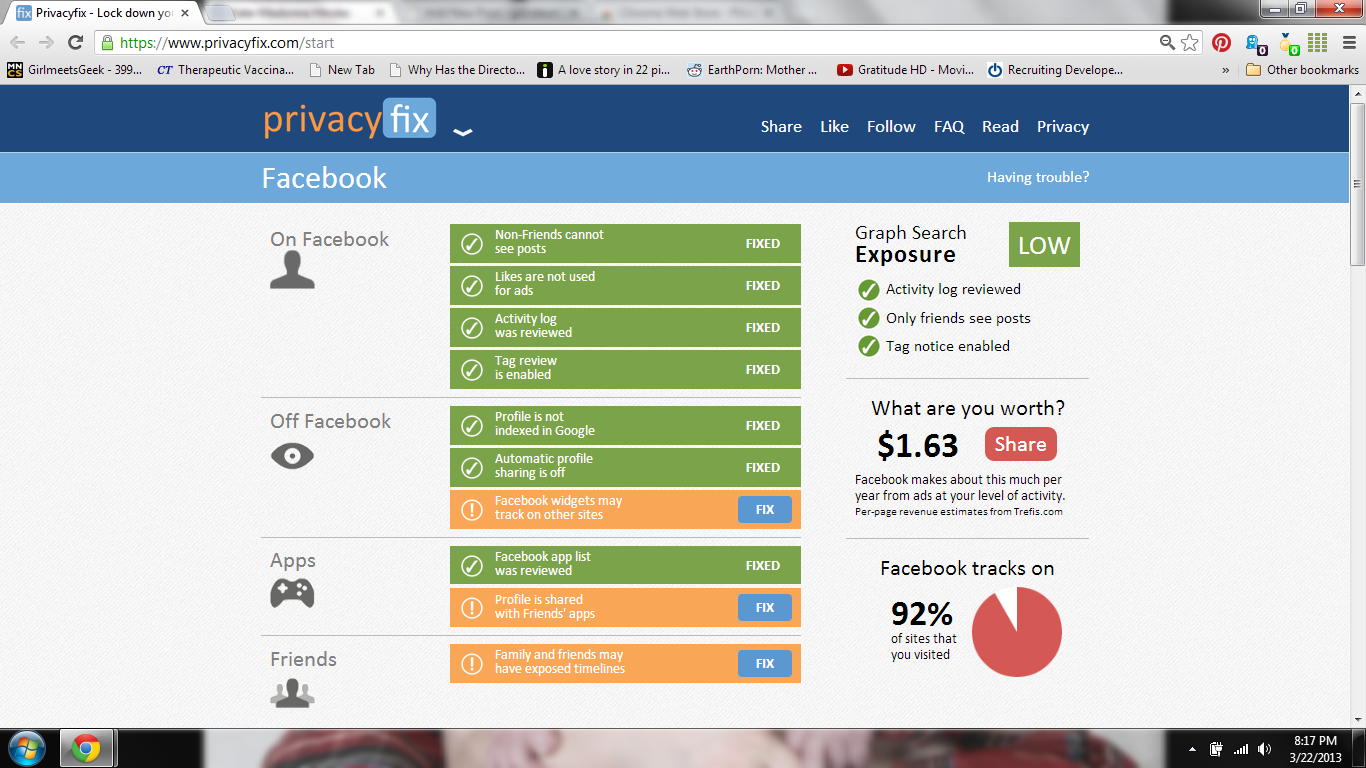 .: Bottom Line :.
I'm not of the belief that knowing too much is "scary" or, "stressful." I'm of the mindset that the more empowered you are about the choices you have, the more educated your choices will be. Don't NOT investigate how you want to handle your privacy online, simply because it seems daunting or scary. My phone number is on my contact page and I routinely receive calls about privacy questions and reviews of tools. Privacy Fix is something I highly recommend (and it's free!) And no, I wasn't paid, pitched or otherwise compensated to talk about the tool. I was just inspired, being all $1.63-worthy.