I sat on my couch after finishing up a day of work and staring at the sink of dishes I promised J. I'd tackle before he came home.  I don't listen to KS95 in the Twin Cities, but I used to follow their twitter feed. A mix of self-deprecation and ill-attempts at humor, I usually shake my head and ponder unfollowing. (Though, the fact that I won concert tickets over a decade ago from the afternoon show kept me somewhat loyal.) Well, until today, that was……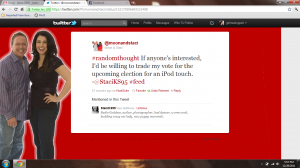 The first thing I did was shake my head. In many, many other countries women are not allowed to vote or be involved in the election process and for Staci to joke, "I'll trade an electronic for my right to vote," was off-putting and immature.
Maybe because I remembered a woman named Mari, (she told me this was the name she picked out when she came to the States.) When I worked for the State of Minnesota, I saw many, many faces of immigrants who came to the US for opportunity and refuge. Mari was from the Middle East. She had a young daughter and sharp typing skills. Her goal was to help her daughter grow up to be "kind and smart." She told me of the opportunities here that weren't in the Middle East for her little girl. I remember distinctively going home to Ava and watching her face over dinner. We were so blessed, her and I. Ava had a future of promise, education and non-violence. I was part of an elite political system that assured her that she mattered. This just isn't so in other countries. Maybe you think I'm over-reacting or that I simply, (as Staci put it, can't take a joke.)  I can, when the joke is funny. It's been years since I've seen Mari and I wonder how she and the countless others coming here are adapting.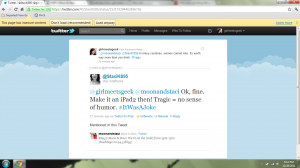 Something I'm sure of, is that I can't take the blatant disregard for the fact that it's been only 100 years since women even 'earned' the right to vote. I wondered, after sending out my tweet, if I was being blasted on the air. (Because it's just so funny to put down your listeners, isn't it?) Clearly online, this was escalating.
This had me thinking.  I would sincerely GIVE STACI MY IPAD2, (no strings attached,) if it could create opportunity for even one woman in the Middle East.  Not because I'm trying to be witty, or funny or anything. It's because no electronic means more than someone's rights. So Staci? Create an opportunity. Speak Out. After all, that's a forgotten privilege, too.