Sometimes, thankfulness can be lost in a spread of status updates and press.  If I could measure my thanks with more than a simple message, I would: Thank you to everyone who has encouraged GirlmeetsGeek to spread it's wings.  I'm gearing up for some INCREDIBLE things, and I am HONORED and ELATED you are making the journey with me.
This one, is truly: FOR YOU, (click there!) I'm humbled, thankful and so truly, astonished.  (There's also a little somethin' somethin' for you at the bottom.)
.     .     .     .     .     .
GirlTalk Radio with Marlo:  http://girltalkwithmarlo.com/cervical-cancer-battles-sea-of-pink
Greg Glatz's CJOB Show: All our podcasts are available on Itunes for free.  Here's the most recent: http://itunes.apple.com/us/podcast/greg-glatz-show/id413242861
Women In Business Radio Show:  http://womeninbusinessradio.com/your-authentic-voice-katemadonna-hindes-women-in-business-in-radio/
I also took on a column with my friends over at JobHuntChat: http://www.jobhuntchat.com/2011/03/bringing-you-to-the-table-how-the-simple-act-of-being-yourself-can-win-you-the-job/
.     .     .     .     .     .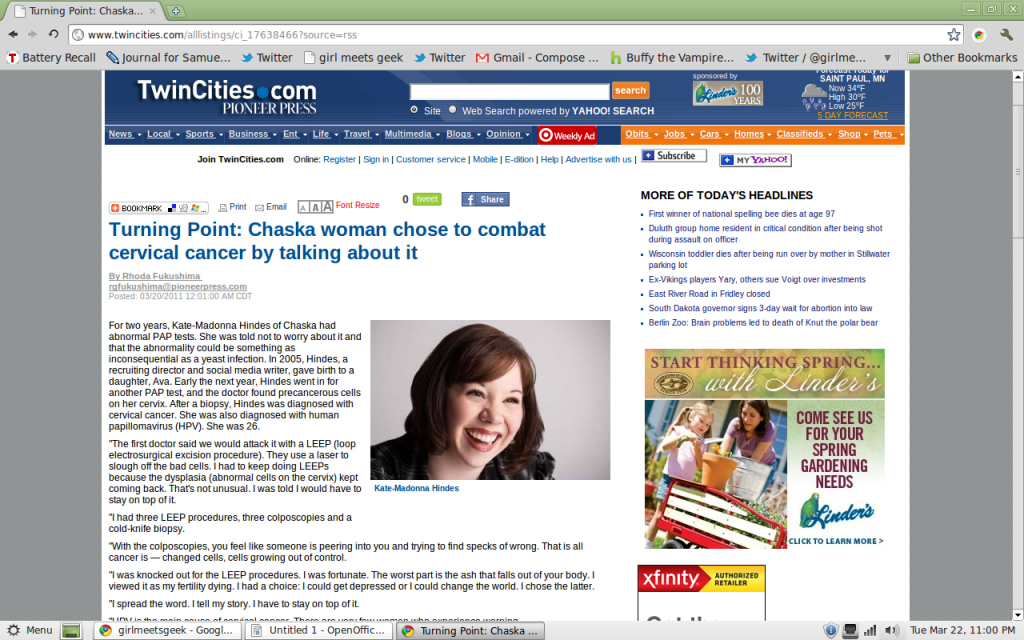 (Pioneer Press Article: http://www.twincities.com/alllistings/ci_17638466?source=rss)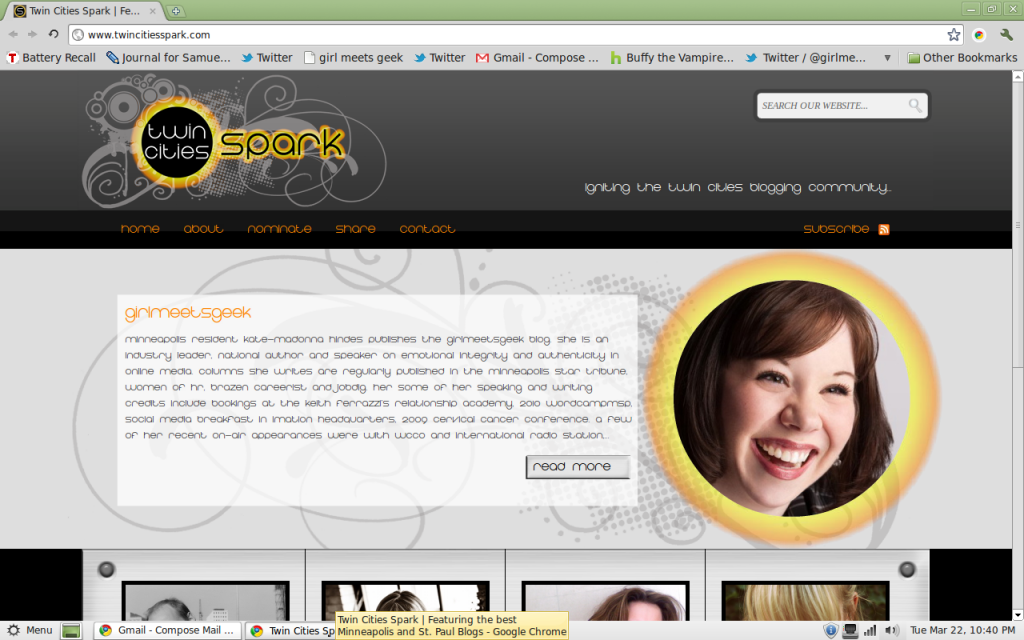 (SPARK website: http://www.twincitiesspark.com/2011/03/girlmeetsgeek/)
Your blog has been around for about three years. How has it evolved since you first started blogging?

I've actually been blogging close to 15 years. My first years, was through a platform at AOL. Then it moved over to LiveJournal and I had a following with a few other friends. Livejournal gave me the ability to really explore writing the personal and internal emotions that helped me to transform to who I am today. After deliberation, about 3 and a half years ago, I decided to move parts of the journal over, and startwww.girlmeetsgeek.com. It started out as a journal to why I wasn't married and ended as an internal look into myself, business and passion. I think GirlmeetsGeek is the culmination of who I was, what I was passionate about and how I was living it out loud.

What is your biggest challenge when it comes to creating new content? How do you overcome it?

I don't write, unless I feel something in my fingertips telling me to. I find, that when I let my passion take control, my writing is far better than if I allow myself to blankly type words. I never blog about my daily life, only about moments that matter most. I don't want to 'water down' my writing with mediocrity and I'm too busy to worry about blogging daily. I have other posts I can pull from if my focus is on business, or I have too many deadlines that week. What keeps my writing, 'fresh' and 'unique,' is the emotion behind it. I always taken on submissions, (I believe GirlmeetsGeek should be a place of words, not just MY words,) so other writers are always welcome. I have always found that good writers are open to the influences around them. I'm a news junkie and I write a lot of my pieces on Social Justice and giving voice to the oppressed. GirlmeetsGeek has become an emotional platform for the forgotten, the passionate and the unvocalized.

People blog for different reasons. What is the most rewarding aspect of maintaining the Girl Meets Geek blog?

I write, because it's in my blood. I don't believe in the word, "Blog." I'm a writer. I'm not a 'blogger." I think by using the terms, 'blog,' or 'blogger,' we limit ourselves. I'm convinced if you cut me open, letters and punctuation would flow from my veins. You could say I blog, because I feel best when my thoughts form into words, hit my keyboard screen and I can read them back and think, "YES." GirlmeetsGeek is for me, only- it always has been. You'll notice, there's no ads on my site and I'm not involved in any communities. I wanted to establish something different for GirlmeetsGeek. I wanted the words, the emotion and the quality to speak for itself, but only because I wanted to put authentic words out there. At the end of the day, the site is for my daughter and I. I want her to see a woman who overcame tremendous odds to grow as a human being and create the world she wanted.

What is one thing you hope your readers learn/understand from reading it?

I hope whomever visits, realizes that we all have greatness in them. I started writing stories when I was in the First Grade. I knew from a young age, that words were my currency to the world. We all have gifts, and they only resonate with others if we put passion and purpose behind those gifts. David Brauer from MinnPost once told me, "Dream Responsibly." I've taken that to heart. GirlmeetsGeek is my Responsible Dream. Our lives are only measured by what we DO with them, not what we WANT out of them. I hope GirlmeetsGeek inspires others to take action and create the future they want.
Every word is so heartfully meant.  Natalie Merchant sang it best….